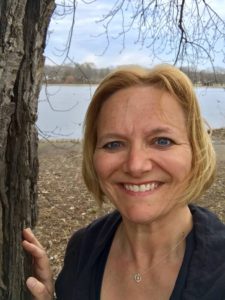 Friends, I'm outside, smiling for a reason today! I've been back to my regular fitness/nutrition regimen for a solid week and I'm feeling pretty good about that! If you've been following me a while, you know I'm pretty notorious for hitting a wall (or being hit by one), so to speak, picking myself up, checking to be sure everything is in working order, then aiming myself toward forward progress. I refuse to quit on ME!
My nature has become quite like that Japanese Proverb, "Fall seven times, get up eight." I've probably blogged at least seven of those "falls"…death of a loved one, trauma injuries sustained in an auto accident, multiple failed mammograms, biopsy, surgery, hospitalized family members, sports injuries, chronic pain…I could go on, you get the idea.
Lots of people have asked how I continue to push forward despite each fall or wall. What motivates me? All kinds of things, but I keep coming back to working through simple, short-term challenges. One I find on the internet, something a friend mentions, or one offered by my husband's employee wellness program…anything that sparks my interest is worth a shot!
So I'm back on point with my fitness and nutrition for a week, and I'm determined to keep going, I've kept my eyes and ears open for that next little spark. As luck would have it, I'm beginning one today. It's an extremely simple idea encouraged at Eric's work called Spring Into Motion.
So between today and June 10th, I'll be walking every day with an aim of 10,000 or more daily steps. Simple. Doable. Employees who participate and complete an evaluation at the end receive $25. I, as a spouse, earn nothing…unless you look further. Not only will I receive the health benefits, this is something that will get my husband moving too, something we can enjoy together. I'll enlist the help of friends to keep me company too and will reward myself at the conclusion with some much-needed new shoes because there will be nothing left to these when I am done!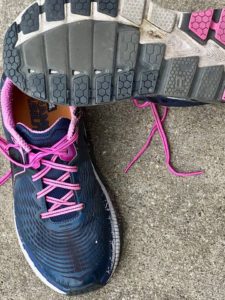 So I'm almost to my 10,000 steps already today. I made some time for a couple laps around one of my favorite trails and enjoyed the balmy fresh air and new life associated with spring…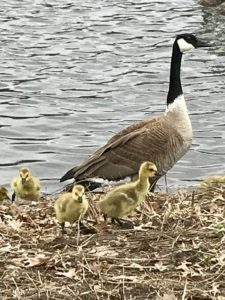 Kind of symbolic…it's a new beginning for me too!
Friends, think about what things drive you, motivate you to push forward, then implement a new one or more to get moving. Let's ALL Spring into Motion!!!