Friends, I have a little confession to make; it's time for me to come clean about something. Last month an aroma-filled package arrived in my mailbox from Shugar Soapworks. They generously provided me with a full-sized sample bar of each of their eight regular line soaps…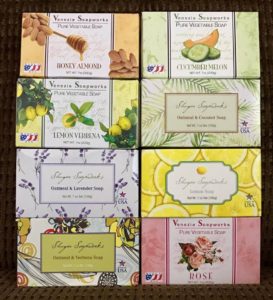 I thought I could provide a better product review if I shared with others, so I enlisted the help of my friend Angela and my mom. They were both as eager as I was to test drive these soaps! Before I tell you what we thought, check out what I learned about them on the company's website…
made only from the purest plant-derived ingredients and never contain sulfates, parabens, colors or animal by-products
each bar is tripple milled to ensure a rich lather, then hard-pressed so it won't crack or fall apart
vegan friendly/no animal by-products/cruelty free
made in the USA…in a sustainably-driven manufacturing operation in Commerce, CA
available at Dollar Tree and Dollar General (and more) stores across the US!!!
Size matters, Friends, when I opened the box of the Oatmeal & Lavendar bar, I was immediately struck at the enormous size of it…7 ounces!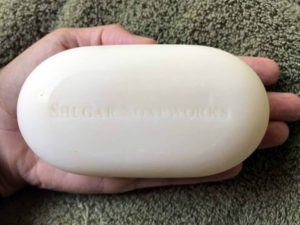 Both my mom and Angela were both surprised by its size as well. I stayed in contact with them over the next couple weeks to compare their impressions with mine. My mom quickly noticed how the Rose bar's scent seemed to freshen the room and she really enjoyed its fragrance on her skin. She appreciated how nicely it lathered and how well it rinsed off. She expressed how well the bar held up to daily use, not getting mushy. After several weeks of use, she is completely satisfied with the product and continues to enjoy the experience.
Angela gave the Honey Almond a try. She found the scent of this bar to be very subtle.  Angela wasn't left feeling at all perfumed after use and would have preferred for the waning scent of that bar to be much stronger. What she liked was how she felt like she had lotion on following use. She stated that since she's the only one using it, the huge-sized bar is going to last her the rest of the year!
I have pretty sensitive skin, so I was a little hesitant, but I am really enjoying the Oatmeal & Lavendar bar. I've noticed zero irritations. Its subtle scent is pleasant, yet not overpowering. I like how quickly the bar lathers and easily rinses off. Because each bar contains a blend of pure essential oils, my skin is left feeling well moisturized. I've noticed despite weeks of use, the bar is still enormous. And I'll admit, I have never really stuck with any particular brand of bath soap and after trying a number of brands, I'm impressed with the longevity of this particular bar's life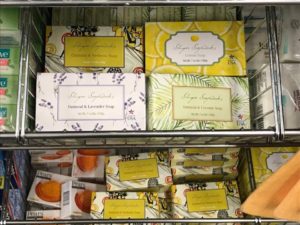 I'm downright fascinated by this product's great value! It's hard for me to believe that a soap of such generous size and such long life costs just a dollar, so I took a little trip to my neighborhood Dollar Tree, and there it was! I love a good deal, Friends!
But if that isn't reason enough for me to be sold, a quick visit to Shugar Soapworks' website sealed the deal!

They are doing some amazing things with charity work across the country with their Clean Hands Save Lives initiative. You can even take the opportunity to nominate a charity, Friends!
Great company, great product…but why take my word for it? You can find out yourself for just $1! So what are you waiting for?!?
I