Friends, I completed the 40 Bags in 40 Days Challenge last year with great success. What is it, you may ask? Today marks the beginning of Lent, and in observance of those 40 days of preparation, I'm choosing to spend a few minutes each day from now until Easter filling a daily garbage or grocery bag with items from around the house…those things that sit, unused. Here's my bag from today…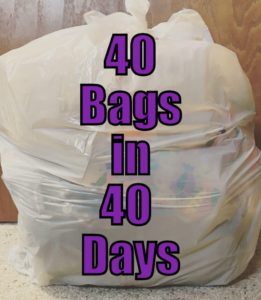 It was quick and simple to do, as I'd already set some things aside to donate before even considering that I ought to participate in this challenge once again. Today's bag holds a sweatshirt, 3 dress shirts, a couple tshirts, a sweater, two workout tops, 2 sets of patio glasswear, a set of formal dining napkins, a toy I made a while back, a few books, a skein of yarn and a few unmentionable odds and ends.
Friends, I didn't even scratch the surface! But I remember what great progress I made on last year's clutter and know it will happen again. And that's a very good thing, because we recently found out a family member will be moving in with us this summer while she completes her college internship throughout the next school year. This is the perfect opportunity for me to let it all go in preparation!
I intend to take this challenge a step further, just as I did last year. Upon filling a bag each day, I will then drive it to Goodwill on my way to my gym just down the street…see where I'm going with this…can you say ACCOUNTABILITY?!?
I remember noticing throughout last year's challenge how things began to feel lighter, airier. And, what a great way to get a jump on spring cleaning because even though I just returned from Florida yesterday…I have cabin fever lol!
Friends, feel free to join me in this gradual purge of stuff; decluttering is quite cathartic! And one more way to put our Best Foot Forward. With 39 bags left to go, I'm off to get a jump on that next one!