It's been well over a month since I traveled to Jacksonville to participate in the Donna Marathon Weekend's half marathon. I've meant to blog about it for weeks, but I think it has taken me until now to understand its significance.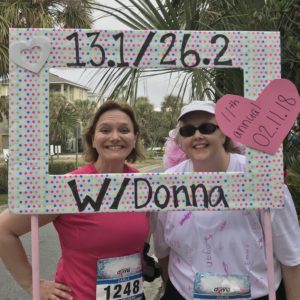 If you read this post a while back, you know this event has become far more important to me this year than when I participated in 2016. Though I walked it back then too, I was in the thick of my marathon and half marathon addiciton…I was seriously running out of control! The proof is in the bling I earned throughout that year…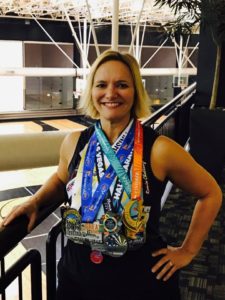 Oh how I loved my running, it was an obsession that seemed to come out of nowhere…it was a total escape from life's crazy, and the endorphins were a reward second to none. So much so, that when I found I needed that lumpectomy, I calmly rescheduled it so I could run a half marathon in California. And when I finally faced the music to have the lump removed, I was running another half only days post-op.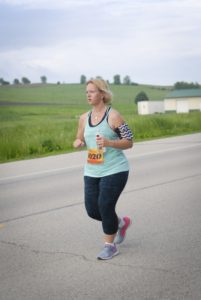 Yeah, that was a tough run for me. When I look back at this pic, I'm right back in that moment with the weight of all the feels. I know now, it was the running that kept my mind north of the worry and fear.
But, it's also clear to me now, I was't exactly running toward anything…I was running away from things. That girl had a LOT going on.
The running continued nearly every day until later that year when this dumb thing happened…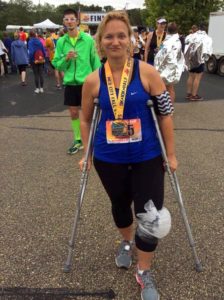 I awoke the meniscal beast, and though I eeked out another marathon and one more half that year, that was the end of that. Though the meniscus has quieted down, runner's knee, osteoarthritis and my sports med doc have made it quite clear. I'm finished.
So there I was in Jacksonville, wondering what in the world I was doing. I picked up my race packet and enjoyed the expo with my friend Julie, because I kind of knew it might be my last.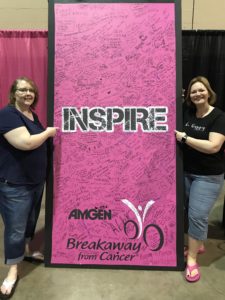 Although we had walked plenty of training miles and planned to walk every last step of those 13.1 miles, I secretly feared my body wouldn't be able to cut it.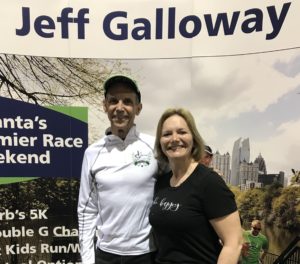 So I gave my regards to Jeff Galloway one more time, just in case!
Before I left for Jacksonville, I checked in with my friends at OOFOS (my beloved recovery footwear company). Mind you, their footwear has supported my body throughout my injury and eased a TON of my pain since. It just so happens they have a Project Pink line…the same amazing comfort, but as part of their charitable giving effort, $10 from every Project Pink Collection shoe purchased goes to breast cancer research! Check out OOFOS' fantastic Project Pink line here.
Well they generously sent me a pair for the occasion, so what else would I have worn to the pink carpet Expo?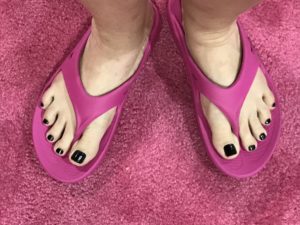 Same amazing comfort/support, extraordinary cause near and dear to my heart! And I'll just tell you right now, I couldn't have recovered from this half later without them!
I was really rusty at setting out my flat Carla the night before. I barely remembered how and hoped I hadn't forgotten anything important.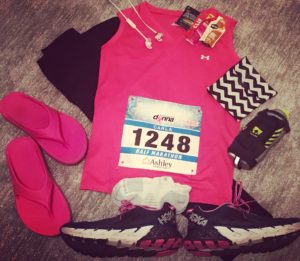 It had been well over a year since my last event, Friends. Past disappointment, the threat of pain…it was a crazy-loud loop running through my head I could not silence. Where did that even come from? I thought I was over all that. But there it was, and I barely slept that night.
I tried to reason with myself…I was only walking; but I was walking 13.1 miles on a bum knee. Ugh. Well, there was only one thing to do, so I put my best foot forward…just ask Elvis!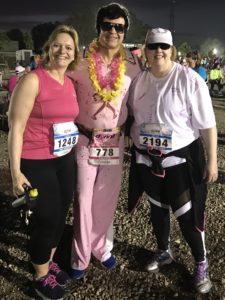 And the moment we crossed the start line, I remembered what I love about Donna's event.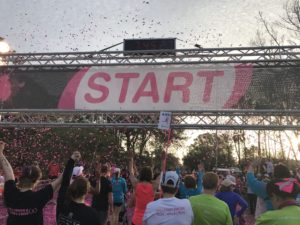 It's not about the race or my pace. It's about something so much bigger, and Julie and I were reminded of that with every neighborhood corner we turned…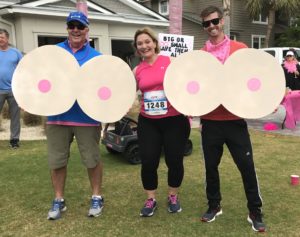 Those homeowners embrace this race for the important cause it is. And to keep it light…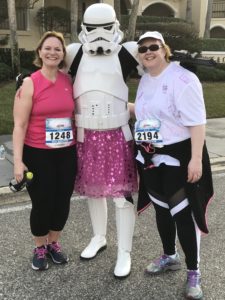 Though I felt I might lose my emotions multiple times along in gratitude for my own breast surgury scare results, these people kept reminding me to laugh and enjoy the journey.
My knee was getting angrier and angrier, and I hate to tell you how many times I thought about quitting. The emotion was raw as it became clearer and clearer with every mile, the race days I loved were drawing to a close. What if all the running was just a temporary vehicle to ease me through a tough time?
A deep, comforting feeling washed over me like the waves of Jax Beach…a gentle yet unmistakable clarity. What a gift to be there, to be able to take that winter walk with a great friend on a beautiful, sunny day in Florida. A day that's not promised to any of us. A day I was grateful to be alive.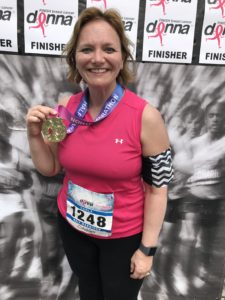 That medal is a symbol of closure I will treasure forever.