Recently, my friend Katie and I loosely planned an outdoor adventure on Minnesota's North Shore with the option of a visit to Canada because the call of the wild loudly beckoned both of us! Incidentally, this fit quite nicely within my August fitness goal to embrace summer before it's gone!
My temperamental knee behaved well during training sessions in the weeks leading up to our adventure. I set an intention to experience everything I could, but to listen well to my body…a simple mindset.
I was nearly giddy with anticipation on my drive to Minnespolis. Katie was kind enough to put me up for the night so we could get an early start the next morning. This was to be a whirlwind of a weekend trip…non-stop from beginning to end. And, we were off! As we caught up with each other, the miles flew by…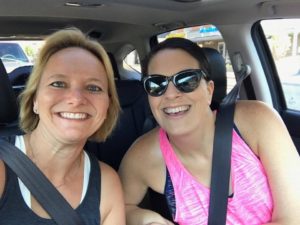 Our energy was through the roof and we were ready to conquer the world! With no concrete plan, we were free to explore at will. So we hopped out at Jay Cooke State Park so Katie could get a taste of what I love about that place!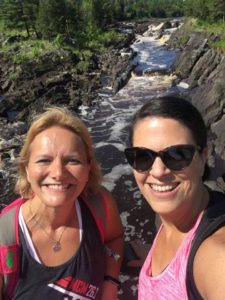 Yeah…I think she liked it!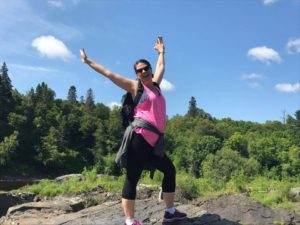 We took advantage of this magnificent backdrop to enjoy a quick hiker's lunch on the banks of the Saint Louis River. And then is was back in the car to put down some more miles.
Next stop, the SHT office…(careful spelling that one) the Superior Hiking Trail office in Two Harbors.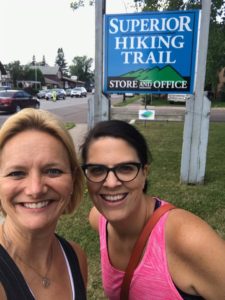 The woman there was a wealth of wisdom as we considered our options for the weekend. I'm not sure if this stop solidified our plans or overwhelmed us with countless more ideas, but we left with expert info. Back in the car! Next it was Katie's turn to introduce me to a thoughful spot.
Yeah, I might have enjoyed Palisade Head just a little haha! What a perfect place to stretch our legs before jumping back on the road. Katie's so full of surprises because she knew what was just ahead, and I'm so glad she did…
Seriously! What an extraordinary peek through a bridge!!! And then back on the road because we were headed to one of our best kept secrets…the Hungry Hippie Hostel just outside of Grand Marais.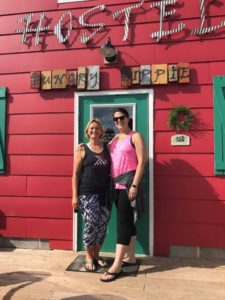 This place had everything we needed and more. I'd never roomed in a hostel before but after this experience, I'd do it all again!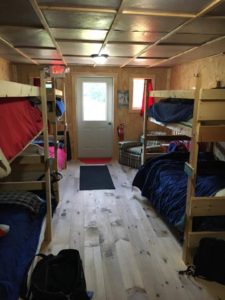 The ambiance was so "summer camp" reminiscent. We were very comfortable there and enjoyed the exquisite view of Lake Superior and the sunset.
And that was my sign to head to bed!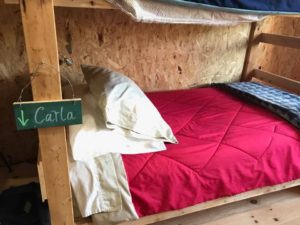 Because we had some pretty extraordinary plans early the next morning…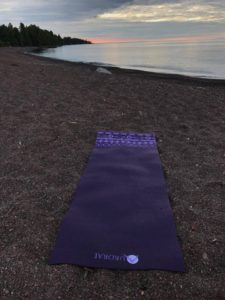 Plans that involved a sunrise and some sun salutations on the tranquil shore of Lake Superior…ahhhhh.
It was a quick savasana though because we had some international plans…how namaste?!?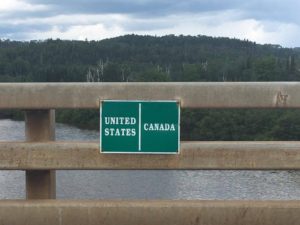 We quickly traveled up to Ontario where we stopped to savor one of Katie's family "up north" traditions…a smoked fish. It's what's for breakfast lol!
Yum! Well fueled, we headed into Thunder Bay to explore a bit of the Canadian lifestyle. Then stopped at a Gouda cheese farm; it was gooood-a (see what I did there?)! And then we were off for the real reason we crossed the border. We were on an elusive waterfall hunt and Pigeon River was home to this!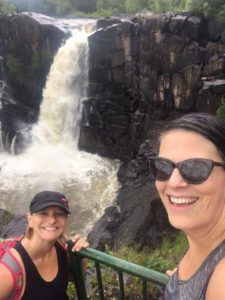 We weathered quite a rainstorm to behold this beaut, but so glad we did! I am in love with waterfalls, the roar of the water, the kiss of the mist, the energy you feel from your head to feet. SWOON!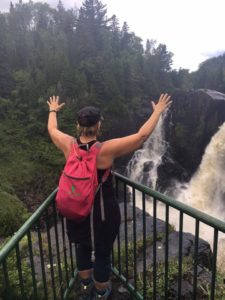 My how the time was flying! We headed back to the states and Grand Marais, enjoyed some local fare despite the hustle and bustle of Fisherman's Picnic Weekend; time to rest up for our last action-packed day!
This one started bright and early because there was still much to see! We had the amazing Judge C R Magney State Park to ourselves and beheld the mysterious Devil's Kettle…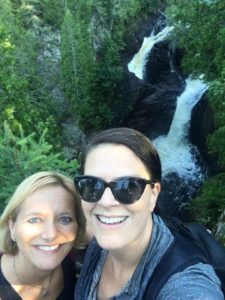 The gorgeous morning seemed to cheer us on in our endeavors as we took off for our next destination. Dear God, the stairs…these views did not come without a price and my knee was beginning to pay.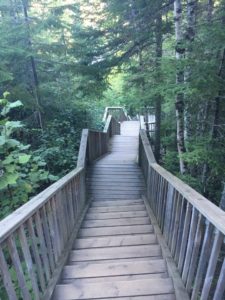 But the effort was well worth it! Cascade River State Park did not disappoint!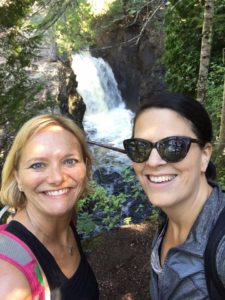 The climbs and decents were worth it every time! Check out the view on our next hike at Temperance River State Park!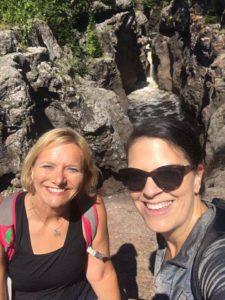 There was beauty around every turn! This state of ours is such a playground, and such soul food too. But heavy-duty hikers can't subsist on that alone, so refueling was necessary, but so welcome in a dining room like this…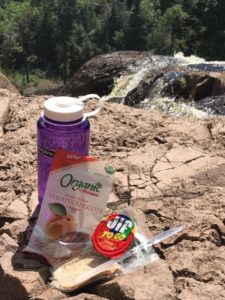 Our legs were pretty fried at that point and we were feeling pretty weathered too, but there was one more waterfall we refused to miss, so we decended and climbed some insane terrain to take in our final award for our efforts…
Wow, Tettagouche State Park. Just Wow!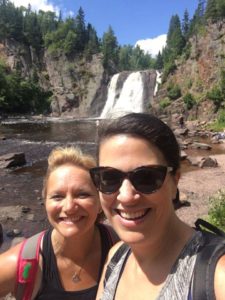 Sadly, our North Shore trek came to a close as quickly as it had arrived. Friends, we left everything we had on those trails but would do it all over again.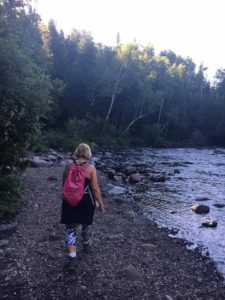 Because what this wildnerness sojourn took from us physically replenished so much more.