I've been working my way through task after task of a highly motivating Nutrition Scavenger Hunt this month, created by dietitians at my local gym. One of the suggested activities on the list is to attend a grocery shopping tour with a dietitian at Hy-Vee.
I knew Hy-Vee stores employed dietitians, but have never really known what they do there. I recently emailed Sara from one of our Rochester locations to schedule my shopping tour. She met with me earlier this week with her intern, Deanna, to give me a store tour from a dietitian's perspective. Here, they introduced me to Bolthouse dressings (I brought home the mango chipotle…YUM).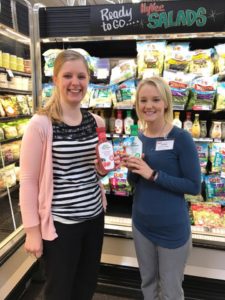 In my 4 1/2 year get-healthy journey, I thought I knew a great deal about the multitude of products available to those who care to make more mindful choices. I'd like to think I know my way around a grocery store too. But this store is a giagantic recent addition to Rochester, and having been intimidated by its size, I shied away from it. Until now!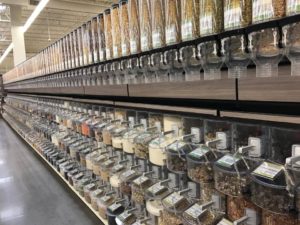 I mean, check out this bulk area for instance…it houses 997 items. I stood there wondering where a person would even start. But with Sara by my side, she zeroed in on one of her favorites…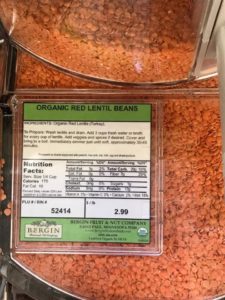 Organic red lentil beans, something I never knew existed, but was glad she pointed out, because some of those went home with me!
Spending hours in a store on your own, attempting to make healthy discoveries can seem overwhelming. I know, I've been there so many times. But strolling through the isles with these knowledgeable ladies was a treat. They pointed out so many products that offer lower calories, lower sodium content and a cleaner list of ingredients! Take for instance this awesome tomato sauce, it contains tomatoes…and that's it! Better yet, only 10 mg of sodium!!!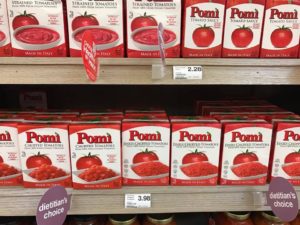 Yup, that went home with me too!
As Sara and Deanna steered me down the chip isle, I joked (actually quite seriously) there couldn't be anything healthy in that isle! But Sara led me straight to these…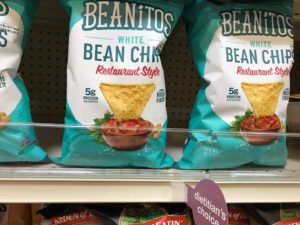 Although the calorie range is equivalent to other chips, these contain only a few ingredients, the first of which is whole navy beans! Must be why they have 5 grams of protein and fiber in each serving. I went home with the white bean chips with hint of lime flavor. I ate some last night…delish!
Snacks can sometimes get me in trouble, but these flackers were developed by a doctor to promote health in a multitude of ways…how cool is that?!?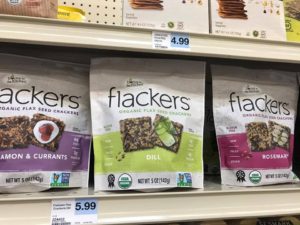 The tour lasted an hour, but Sara and Deanna's recommendation list went far beyond! I've become aware of so many new super food items, many with convenience in mind…like this ready-made quinoa.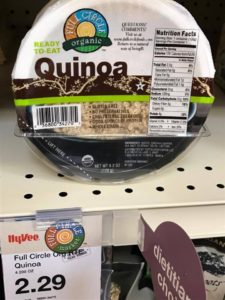 And these amazing cauliflower crumbles that save time and mess!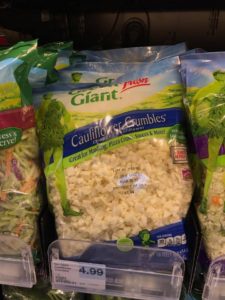 I'd show you the spiralized veggies that intrigued me, but I can't; when I went back to choose some, they were sold out!
I'm happy to know there are some great products out there to replace others that didn't fit well in my diet, like these seasonings to help me avoid salt.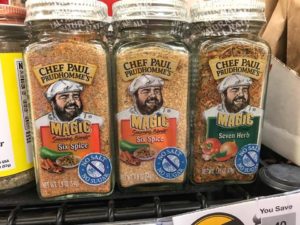 And how about these instead of tortillas? At 60 calories and a plethora of flavors, I'd reach for these every time!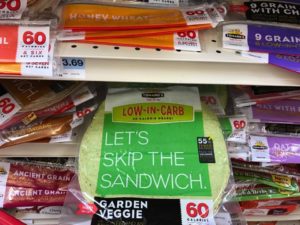 It was eye-opening what I learned in an hour. Sara, many thanks for your expertise and willingness to spend an hour with me, so glad Deanna accompanied us too. I've gained much valuable insight!
I'm freshly inspired knowing there's even an ice cream out there that aligns with my goals!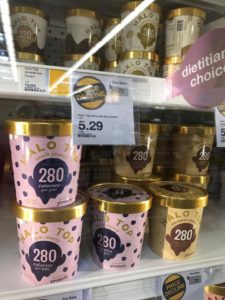 Shout out to the Rochester Athletic Club dietitians for such an innovative way to observe National Nutrition Month; I'm off to complete another task on the scavenger hunt!