Friends, I spent some time looking at the week before me…it's a busy one. But I'm looking ahead for very good reason; I'm setting an intention, right now (as always), to be mindful of my time in order to win my week. Because when I do, I feel like this…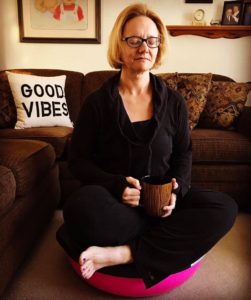 See, if I don't gaze forward in awareness of upcoming events and possible triggers, the week will likely have its way with me, leaving unwanted consequences in its trail. By taking a peek at my upcoming week and making a plan of attack, I've already decided to win my week. Here are 10 ways I plan to do just that…
1. Set yourself up for success in the kitchen. If that means running to the store today, do it! Ensure that you have plentiful healthy food options that are ready for those on-the-go times throughout the week when you'd ordinarily make less than stellar choices. Keep some snacks handy throughout your day so you don't even have to think…just refuel. If you want to take it a step further, purge all the junk that's lurking in your cupboards!
2. Schedule your workouts. Look at your planner and place your workouts within. You will be far more likely to follow through if you've already made a plan of action. I promise!
3.  Invite company to the fun. If you've decided to try a new class, take a break or lunchtime walk, attempt a new hike or adventure, or are just doing the same-old same-old take a friend along. It will feel less like a chore and more like a party with a family member, co-worker or bestie. Better yet, this person may turn out to be the best darn accountability buddy you've ever had.
4. Hydrate! Even though it's winter and you may feel like you need it less…drink that water! Shoot for the recommended 64 ounces per day.
5. Make sleep a priority. Sometimes we have to get protective of our time to accomplish this, but you are worth it! Sleep goes way beyond just feeling rested…there are all kinds of important benefits/restoration a good night's sleep provides your body. And did you know, the National Sleep Foundation recommends adults between 18-64 years of age get 7-9 hours of sleep per night? Work on it!
6. Do what you love! Carve out a bit of time each day doing something you love. Whether that's reading, crafting, gardening, playing a game, catching the latest episode of your inspiring podcast or simply meditating…do it!
7. Plan something to look forward to. Whether it's setting a goal, registering for an event or planning a datenight, getaway or trip, put something on the calendar and make it happen. Without something to work toward, train for or eagerly await, we can feel stuck simply going through life's daily motions.
8. Defend your time. Are you one of those people that says yes to all those extra commitments, only to find yourself feeling bogged down, trapped and overwhelmed? The magic word here is NO! Use it, mean it and don't forget saying no to other people means saying yes to your wellbeing.
9. Don't forget self care! This is also known as me-time. It is not selfish to do something kind for yourself, it's necessary. Take time for a calming massage, soothing bath, facial, pedicure or nap. Take care of you! I challenge you to take it a step further and put ME-DAY on your calendar for an entire day each month and treat yo self. You will be amazed at how this enhances the rest of your month!
10. Look at the bright side. It's there, within every situation, so look for and find the bright side in everything rather than dwelling on the negative. It might be tough at first, but you will find that silver lining if you take the opportunity to look. This is a most meaningful step toward a lifetime rich in gratitude.
This may seem like a lot to juggle, but the good news is it's not rocket science. Start small in embracing these 10 practices; soon they will become second nature. Friends, have a great week and reach for the WIN!