Friends, this summer is on fast forward…I swear! It's been a month since I've posted, yet my family and adventures have kept my head spinning in the very best ways. It's time we catch up a bit…I'll do my best in the upcoming weeks to share with you things my mind is still attempting to put words to. For now, I'll recall a surreal trip to San Diego I took a month ago that was meant to inspire my blogging, but did vastly more!
I admit, it was an unpack and repack whirlwind that took me from serene, family lake vacation in Minnesota to upbeat, fast-paced west coast adventure…one that has left an indelible impression in my heart. A late-night flight landed me in the Gaslamp Quarter with my soul sister I don't see nearly often enough! We immediately crashed at our Airbnb and woke the next morning ready to conquer the world!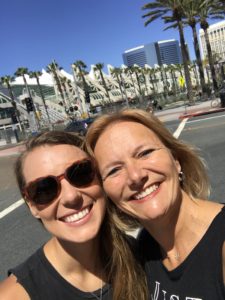 We carved out an entire week, with Blogfest and the IDEA World Fitness Convention as our main focus, but had so much more in our cache of plans. We hit the pavement running and made every inch our amazing playground!
We did our best to mentally prepare for the information overload and mass amounts of motivation we were about to ingest. There was really only one way to do that while in sunny SoCal IMHO…
The extraordinary organizers of Blogfest put us front and center with some amazing fitness and wellness professionals to ignite a blaze of inspiration within. Nadia and I simply fell in love with motivational guru, Petra Kolber. Her message continues to whisper sweet nothings in my soul.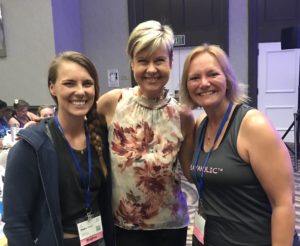 Yeah, true confession…I openly admit to rubbing on her arm to absorb some of her exquisite vibe! And while that exchange still had me giddy, I was not prepared for what came next!
I've been captivated by Heidi and Chris Powell since the debut of Extreme Weight Loss on ABC. I savored each episode because I was in the midst of my own transformation and related to and hung on their every word. They won the Jack LaLanne award during IDEA WORLD's opening ceremonies and gave a stupendous acceptance speech.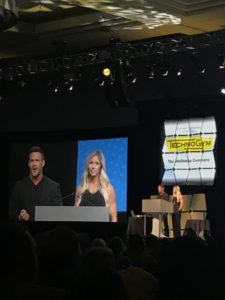 Shortly after they concluded and the keynote began, Nadia tipped me off to this cosmically destined moment…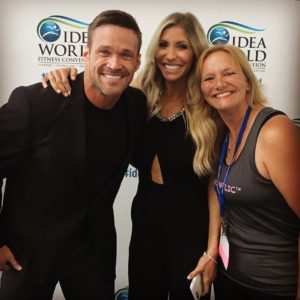 Yeah, another true confession…I shamelessly helped myself to their radiant energy too. I'm still swooning from that one! We were additionally enthralled with Heidi's keynote at Blogfest, where we all continued to bask in her glow.
Although these were merely a small fraction of our Blogfest/IDEA World events, I don't think my feet ever touched the ground after that. It all seems a fantastic blur to me now!
We listened and learned from several other great speakers and were spoiled by a number of sponsoring companies like California Almonds, Frog Fitness, General Mills, TriggerPoint, and BeBetter to name a few.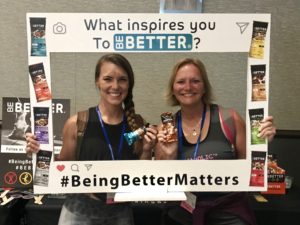 And although the workouts and workshops were all so high energy, nothing could prepare me for the insane amount of energy packed into the expo!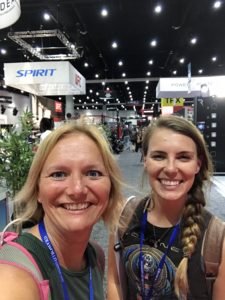 It simply blows my mind, all the great connections made in one place! Shout-outs to my friends at OOFOS and D'moda Sportswear…their generosity astounds me!
Was SO happy to run into the fine folks at Great Lakes Gelatin to share with them my injury recovery success with their product!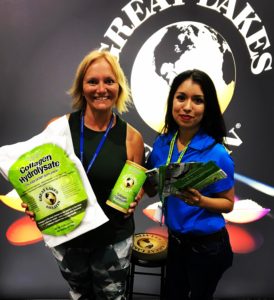 My favorite new find at the expo had to be these big kid toys by Empower…you all know how much I love to play!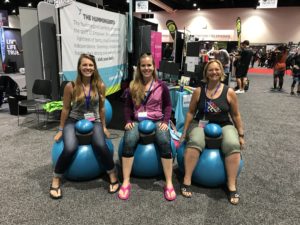 I'm tired just recalling Blogfest and IDEA, but maybe that's because I jammed way more fun into my trip…like this sailing adventure chartered by some very special friends!
And this little pre-dawn hike up Cowles Mountain. Although the sunrise wasn't spectacular, the climb, view, company and accomplishment were!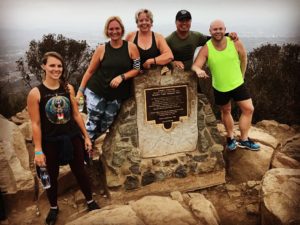 Yeah, we embraced every single solitary moment in that paradise!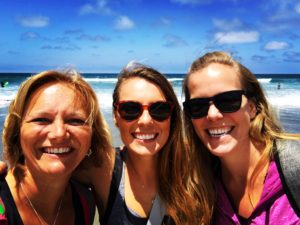 What a blessing to experience the richness of this enchanting place in the presence of truly outstanding people!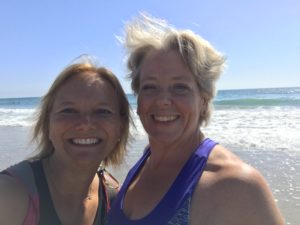 The reconnection and recharge felt throughout this week will echo within forever!