Friends, I've been traveling quite often the past couple years in search of adventure, fitness and fun; I THRIVE on it!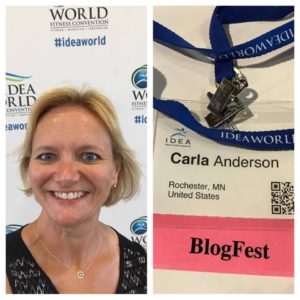 I recently spent some time in Las Vegas attending IDEA World Convention, a four-day cutting-edge experience in fitness education, networking and motivation. I specifically attended to participate in BlogFest, in hopes of energizing my blog and reigniting that spark for my continued weight loss endeavors. I'm ecstatic to say I got that and SO MUCH MORE!
I was introduced to some fantastic motivators/fitness experts/authors Todd Durkin and Jorge Cruise. They were so generous with their inspiring messages and gift of their books!
I was starstruck coming face-to-face with Kathy Smith in my hotel lobby and later so excited to hear her message. Was amazing to see her in person after those step workouts we did together in the comfort of my living room all those years!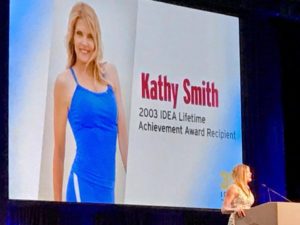 We were contantly on the go, even before BlogFest officially began, we met up for an early morning warm-up…seriously a hot mess sweatfest! July in Vegas, you know!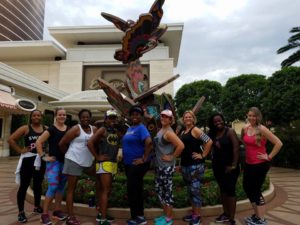 And that was just the beginning of the workouts because we were hopping all weekend!
I really enjoyed this Inner Idea Experience, four separate yoga threads woven together to produce a beautiful tapestry of profound namaste. I welcomed the delightful pause it provided.
The calm was very helpful because it was right back to high energy-activities like the mindblowing EXPO!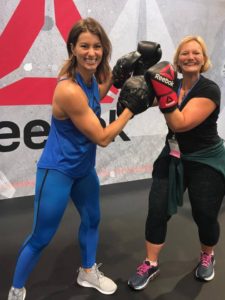 My most memorable experience was at the Reebok booth where I was fortunate to spend some time with Biggest Loser trainer, Jen Widerstrom. She gave me some much needed boxing tips and a gratitude rich experience I'll cherish forever.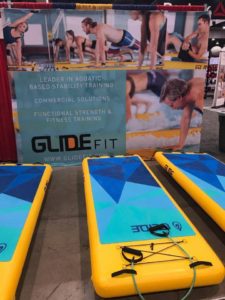 I LOVE a good expo because it brings me face-to-face with new experiences I'm dying to try…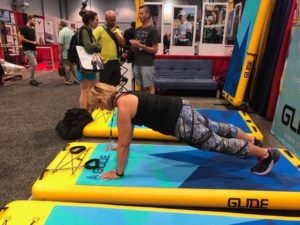 A few minutes on that thing and my core had no idea what hit it! I will be begging and pleading with my gym to add these to their group fitness schedule!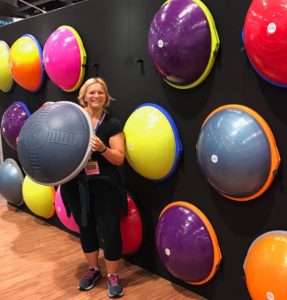 It was fun to visit with the reps of some of my favorite products. LOVE the array of colors Bosu offers!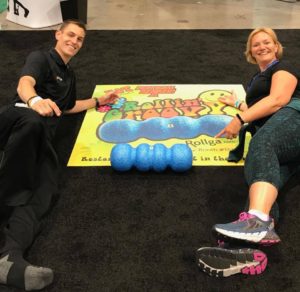 I had to do a double take when I spotted Tim, co-owner of my beloved Rollga. I couldn't believe he was there, as he's just up the road from me in St. Cloud, MN. But of course he was there, his invention deserves to be in every gym around the world and I'm so happy to witness it happening!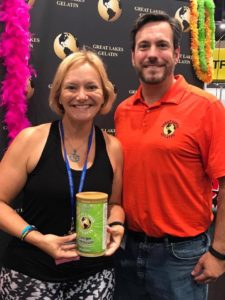 I'm thankful to have spent some time with the fine folks at Great Lakes Gelatin because in a week's time of using, I've noticed a significant reduction in pain and increased mobility in my angry knee. WIN!!!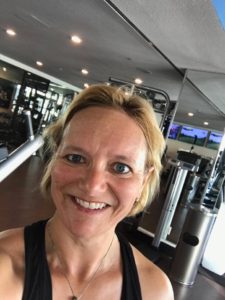 Throughout this wonderful conference I allowed myself a little me time. I got my recharged self to the gym…and I'm so glad I did. I built a little extra me time into the tail end of my trip too; I knew I would need to decompress and let my mind digest all it had taken in.
So I moved off the convention site for my last few days, but I didn't sit still for long…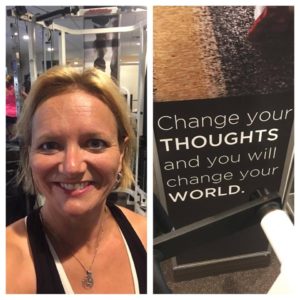 Because when in Vegas, there are far more things to digest than thoughts…
And I was even lucky enough to spend some time with my Cousin Bonnie as we attended a funny little show that reminds me it's definitely time to keep moving!
Just ask its star, Cindy Williams (you know, Shirley from Luverne and Shirley!!!), we barely caught up with her after the show on our way out haha!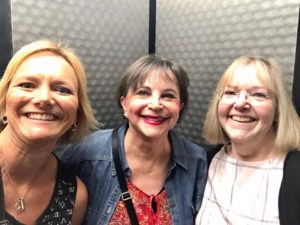 No, Friends, I will never stop moving…partially because I'm still wearing off that pot pie from Hash House a Go Go, but because I know there are so many more things I want to see and do!
What a fantastic treat BlogFest in Vegas was for me, and the experience just kept giving, like the first class upgrade I was awarded on the way home…aw, thanks, Delta!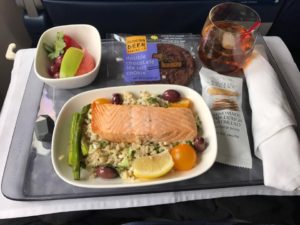 And thank goodness, because the lightening in Minneapolis lengthened my time on that plane. Which made me miss my connecting flight home, but no worries…an overnight in Bloomington and right back to the airport for my plan B workout!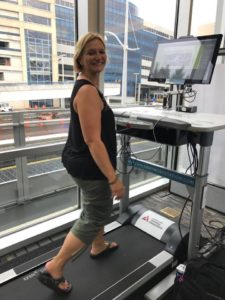 Because it's all about putting our Best Foot Forward!