I've been quiet lately, Friends…recovering from an unforgettable expedition and struggling to encompass my myriad of thoughts into words that would adequately express a recent experience.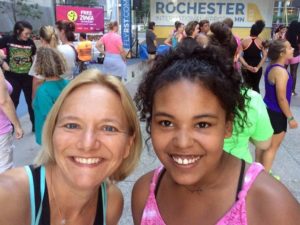 First, let me back up to remind you of the mentorship I was involved in with this young lady. This link describes an important year we shared.
Upon graduation from the program, we were encouraged to continue meeting. So when I read about an all expenses paid 5-day/4-night Boundary Waters Canoe Area adventure offered by our mentor organization, Bolder Options and partnered by Quetico Foundation US, I could barely believe it! I quickly pitched the idea to an apprehensive mentee, explaining this trip would be an opportunity of a lifetime. It took some convincing because some of the details were beyond her comfort zone, but she bravely agreed!
I wouldn't have pressured her if I didn't think she could handle it, but I knew from my many adventures as a Boy Scout Mom the lasting impact this experience would leave!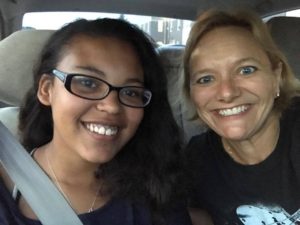 I picked her up insanely early the first morning to travel to Minneapolis in time to meet the rest. We then caught a van with several other mentor pairs and our fearless guides. What I didn't know until we arrived at Seagull Outfitters later that evening…the men and women would have separate journeys. This simply meant I'd have to brush up on my toughness, bring my A game. I mean, there are moose and bears out there, Folks!
It's not like we signed up for any old walk in the park. As our Bolder Options shirts remind us…All it Takes is All You Got!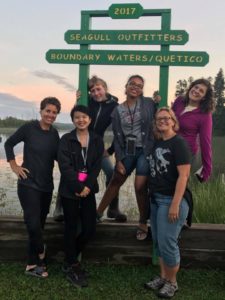 No worries, Friends, I slapped on my confidence mindset to assure the others (and me) that everything would be fine! I took comfort in knowing this was not the other ladies' first rodeo either.
We spent the evening packing only our basic essentials into dry bags, then adding them with our gear into mammoth camp packs.
It suddenly became very real as we double and triple-checked our lists.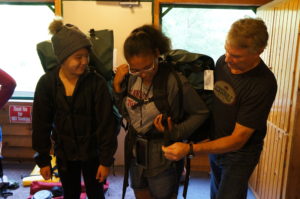 Once we ventured out that next morning, there was no turning back…we either had everything or we didn't! We caught a ride with our gear and canoes to our starting point…
Where we transferred to tow boats and where it got extremely real!
Parting from civilization can be quite intimidating, but we are all strong warriors…resourceful, resilient WOMEN! We were dropped at our starting point to regroup and find our rhythm.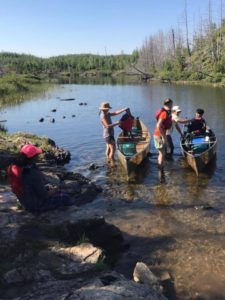 And wouldn't you know, before I even began to paddle, I spotted my first sign of many that everything would be perfect (thanks, Dad)!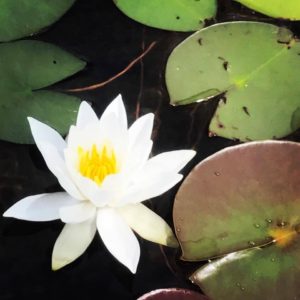 And so it began, our journey was in forward motion. I couldn't help thinking how cool it was that these three generations of remarkable women, each walking vastly different paths in life, converged in this moment. How blessed we all were to have come together, immersed in nature.
It took some time to find confidence in each endeavor; paddling and portaging took some fine-tuning, but we soon found our groove.
We each learned lessons, acquired new skills. Our comfort zones grew and stretched as we attained new competancies along the way. There were canoes to secure, tents to pitch, a quick dip!
Latrines to find, water to filter, food to prepare, dishes to wash…we were finding our way together as a tribe.
And between the work came moments of deep connection. This glimpse right here, this is exactly the soulful experience I hoped would happen for Kiara on this trip!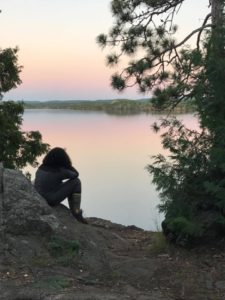 But she wasn't the only one deeply touched by our surroundings. There were a multitude of breathtaking views like this throughout our sojourn for all to consume with our whole hearts. Looking back, I almost forgot how the mosquitoes terrorized us!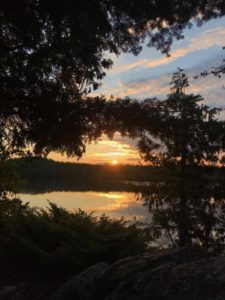 No matter, it was all part of the experience! Night turned to morning and it was time for this well bonded clan of nomads to pick up camp and move on!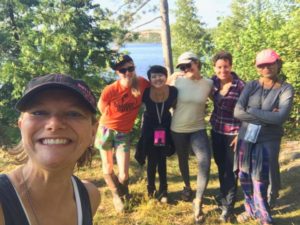 Another day of much the same…
Hours on the water gives one time to reflect; I was deeply mesmerized by it and found myself thinking what a NSV…non scale victory this was for me. I never could have considered mentoring at my starting weight of 246, would never have had the strength or endurance this trip required. It also filled me with such gratitude knowing I'd survived that car accident a few years back too. My broken ribs/sternum, my constricted shoulders, neck, collarbone…all healed and stronger than ever. The proof was right there before me…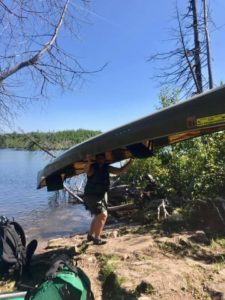 And my recent knee injury, well I just told that thing to shut up; I mean when else would I be able to do this?
We continued to experience victory after marvelous victory…check out this girl's first fire!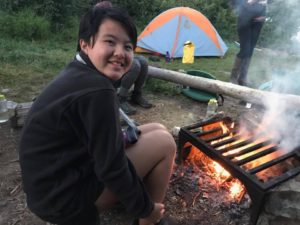 Not only did she rock that, she proved her toughness when she withstood a foot covered in leeches…all the props, Girl!
We perfected campsite feng shui…
There was ample opportunity to bare our vulnerabilities to one another, freedom for each to openly shine their bright light so the rest could find their way. We laughed, we cried, we laughed a bunch more…what beautiful, wonderful women inside and out!
We continued to read each little sign along the way.
It felt like Mother Nature herself had planned every detail of this experience for us, granting profound abundance for all.
She practically serenaded us to sleep!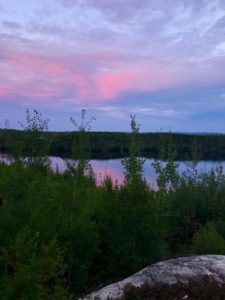 Or maybe that was the hum of the bazillion mosquitoes just outside our tents lol! Haha, either way, she took wonderful care of us, she even aligned the storms to strike at just the right moment…not only did they hold out until after we were off the water, they gave us time to be safely tucked in too.
I think we all would have enjoyed another day or two out there, because it felt way too soon to return to the outfitters to join back up with the guys. I'm sure they were left with awesome memories of their own.
I'm grateful we got to share this leg of our journeys together, and hope we cross paths again, Bolder/Quetico Friends! No doubt we each left BWCA profoundly changed, and I don't just mean those mosquito bites!