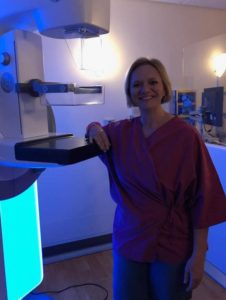 Last week I wrote about a little test I was hoping to pass…if you missed it, you can catch up here.
Considering the experience I had last year, I wasn't too excited about waiting a week for the results of that 2D mammogram. I did everything I could to remain positive, to breathe away the worry, to keep myself from emotionally eating my bodyweight in hummus and pita chips. Still, it came as no surprise I flunked that exam and had to return this week for another…here we go again.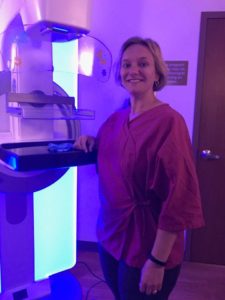 Friends, I knew the drill and I was working my way through the order of events last year in my mind…mammogram, second mammogram, ultrasound, biopsy, lumpectomy. How ironic what they found was on the other side this year…would I have matching sharkbite scars when all was said and done? Eventually I caught myself in this useless thought process and gently moved it aside as I returned for that 3D mammogram. If you notice the look in this second photo, that's me telling myself to shut up already! I knew the results of this test determined the next step.
And dang it, I flunked that test too. As I was immediately ushered down the hall to ultrasound, I reminded my shaky legs that this was nothing until it's something…so it's still nothing!
During that ultrasound, the technician seemed to zero in on an area that began to hurt. I could tell there was something there and the longer she investigated that spot, the more concerned I became. When the radiologist arrived to examine her findings, I dreaded his words and my anxiety made it difficult to comprehend them. They'd been looking at 3 cysts that were not suspect. He saw nothing suspicious and barring any new concerns, I was off the hook for a year!
Which, in my head, translated to no biopsy, no lumpectomy AND NO CANCER! Big sigh of relief. HUGE. I could have kissed that guy!
So thankful it's still nothing.
This experience turned out to be educational because I picked up an important nugget from which we can all benefit. The 3D mammogram technology can reveal breast cancer up to 3 years earlier than the 2D exam and that's great news in terms of early detection and survival rates. So those of you avoiding mammograms should know there is really nothing to fear here, but fear itself. I will keep that in mind next year when I opt for the 3D right away and convince my shaky legs to chill.
Yet again, I guess the moral of my story boils down to this…