Once upon a time, several years back, I adopted a new mindset that has vibrantly colored my life nothing short of astounding at times. If you've followed me for a while, you may recall some of the many adventures I shared here…none of which would have occurred if not for a single, solitary word. YES!
This mindset was encouraged, in part, by the humorously thought provoking 2008 Jim Carrey film, Yes Man. This movie portrayed a man living a mundane existence until he learned to unleash the power of simply saying YES. The thought intrigued me. What would my life be like if I said YES more often? I admit, I was careful about what I considered because I'd become a big believer in saying no to things that did not serve me. But what if I said YES to opportunities meant to enhance my life?
The crazy part of it all, the more often I said YES to things like running marathons in Honolulu & Washington DC, participating in a 24 hour urban scavenger hunt/adventure race in Vegas, hiking the Narrows of Zion, walking Key West over and over, climbing a mountain here and there…the more these opportunities seemed to seek me out. Here's a fun example of how this YES mentality worked for me…
A few months back, my neighbor asked if I'd like to accompany her on a business trip to Chicago. An amazing hotel was covered and I'd just need to come up with airfare. There was never a moment of hesitation…the answer was an obvious DUH! And before I knew what hit me, I was on a plane, and the Universe seemed to nod with exulting approval…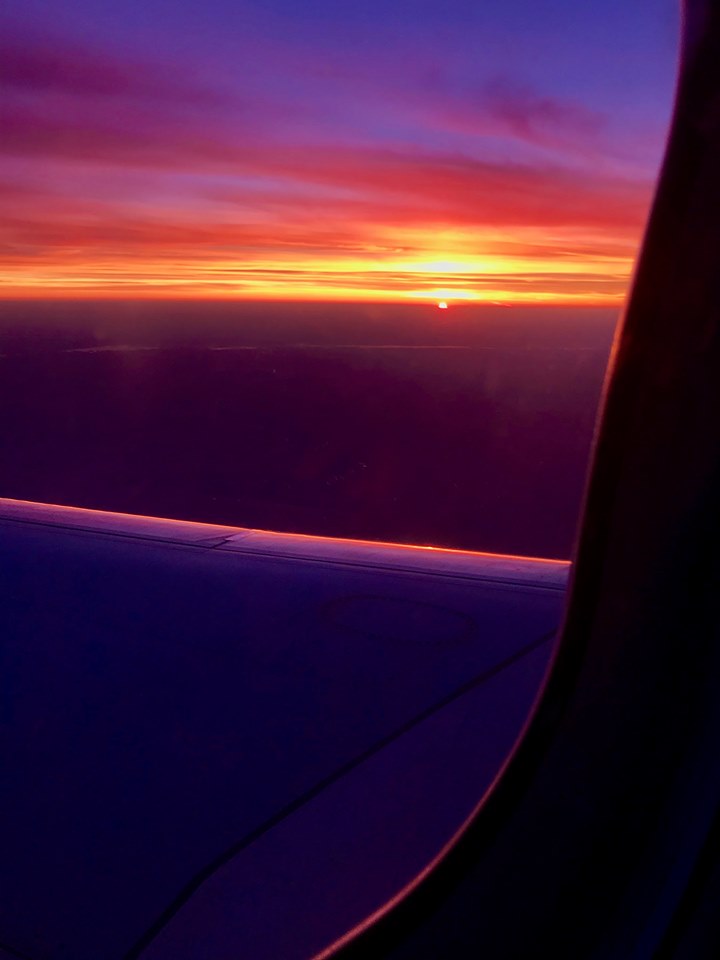 In anticipation of the possibilities of this playground, I did some recon before we left. In doing so, I was able to make some preparations to assure our trip's awesomeness; as soon as we landed, it began to unfold!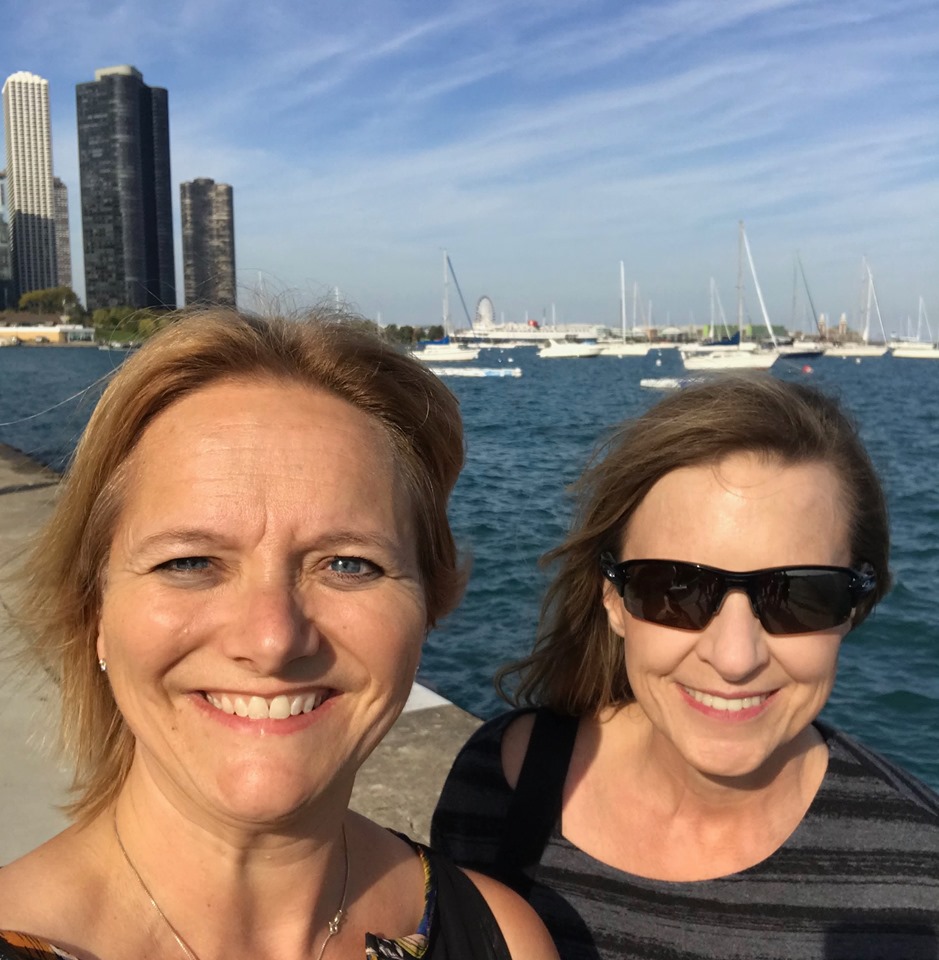 Of course, Jane was there to work, so while she was occupied, I jumped into an event I knew I was meant to attend.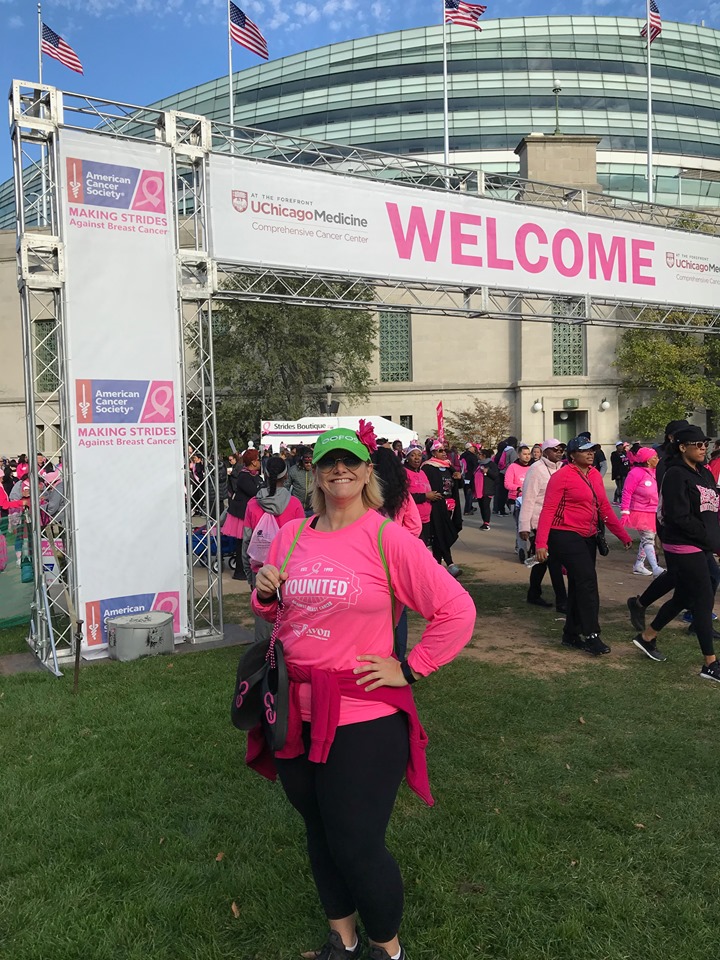 Weeks before, I found the Making Strides Against Breast Cancer 5K walk and could already envision myself helping make a difference. Armed with generous American Cancer Society donations contibuted by friends (thanks again!!!), I joined thousands of others that morning with a united aim to put an end to this vicious killer! No need to guess how I felt about it…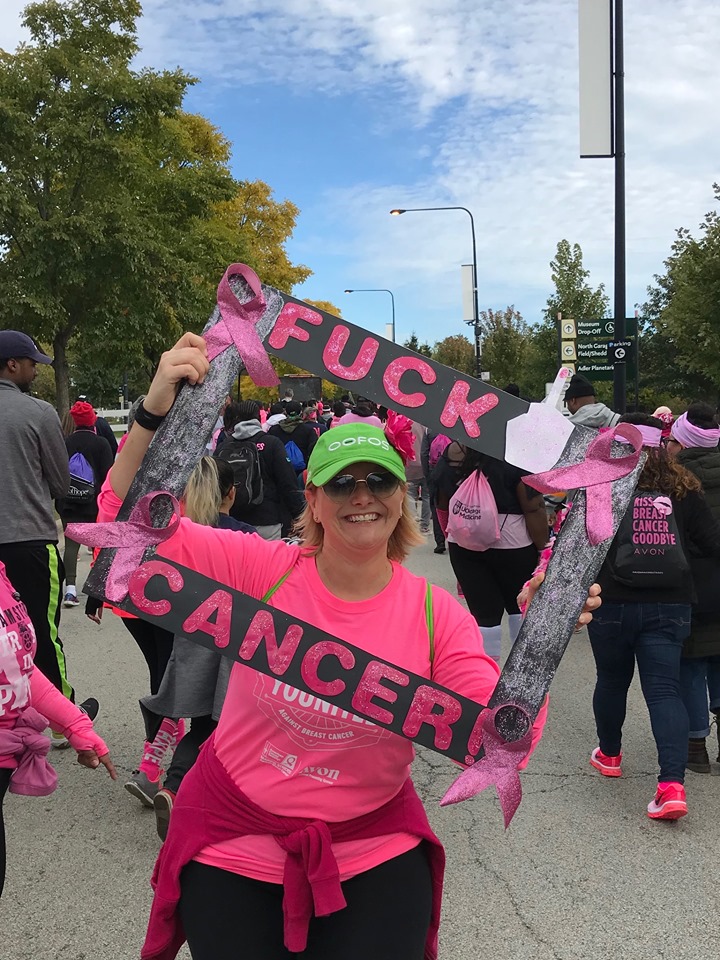 It still blew my mind how easily I found myself in the very place I was meant to be in that moment. And how surreal to find myself surrounded by abundant love and a common goal as I walked across the start line.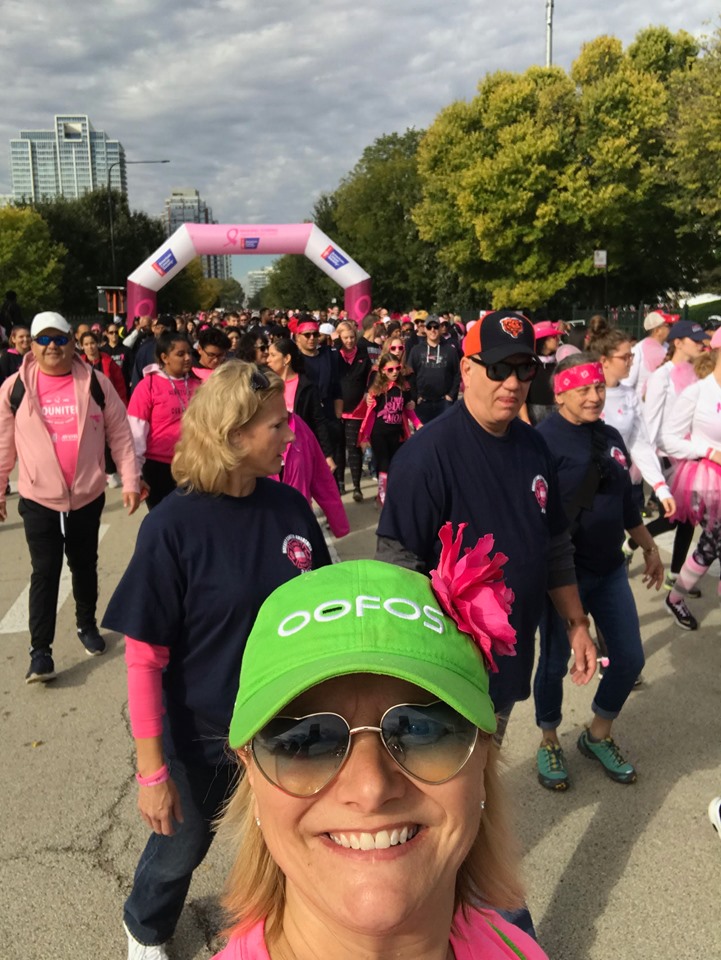 What a brilliantly perfect way to sightsee!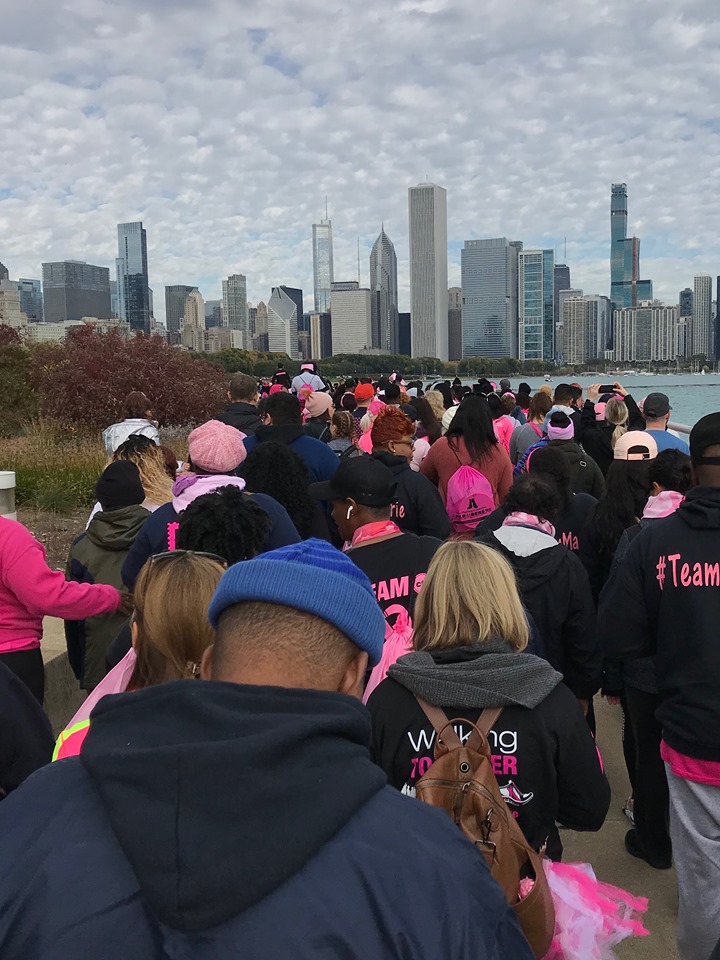 Before I could even comprehend what happened, I found myself talking with a girl I have no doubt I was meant to meet in this sea of fuschia. Emma and I had an instant connection and spent nearly the entire 3.1 miles sharing our stories and lives. I LOVE when this happens!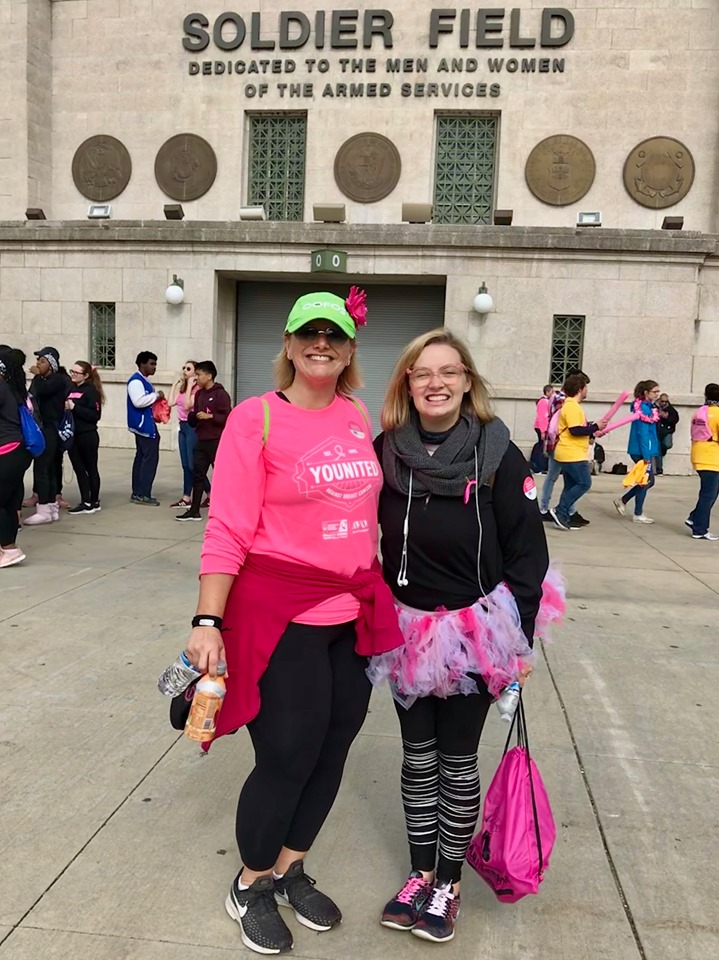 Oh how that serendipitous time flew! Lovely to meet you, Emma! As we went our separate ways, I came upon someone else I felt destined to meet.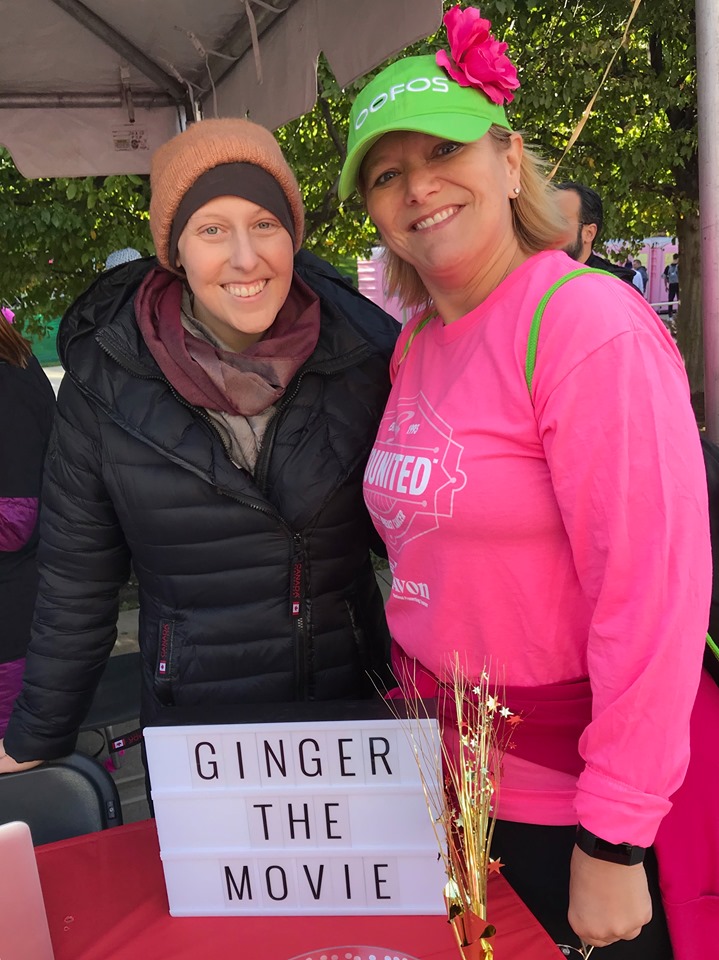 Melissa is a BADASS WARRIOR SURVIVOR…no other way to describe how she's chosen to pay forward her struggle. She is the co-director of Ginger The Movie, inspired by her courageous, ongoing battle with breast cancer. I can't wait to see her movie when it hopefully hits the big screen in my area or shows up on Netflix soon. Friends, keep your eyes open for it!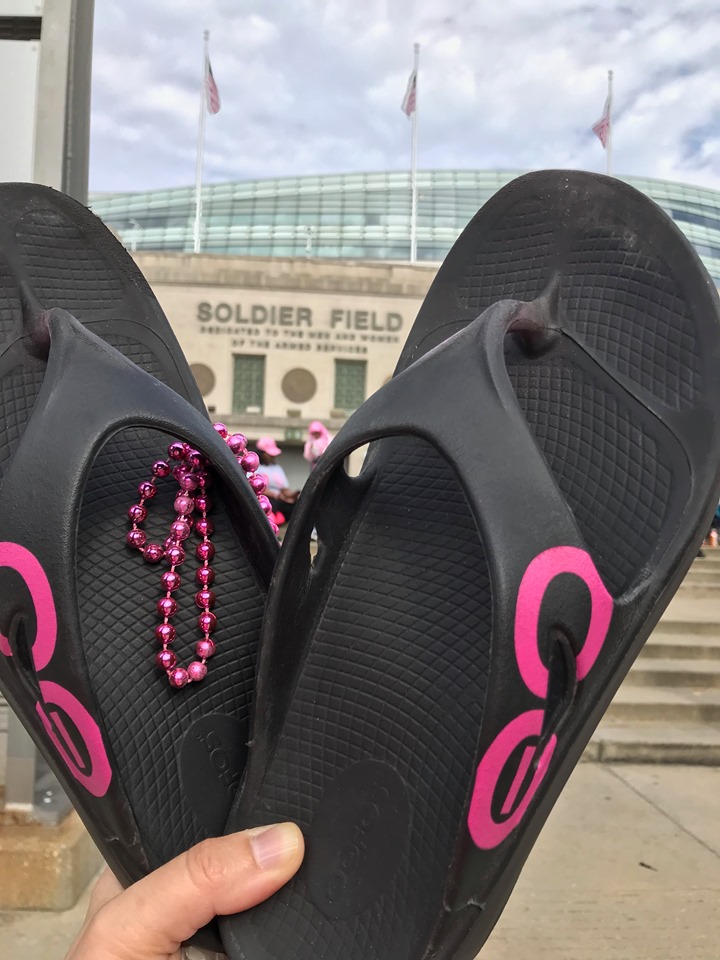 I was also grateful for the opportunity to sing OOFOS' praises for the love they've shown me over the years. I walked in memory of Duncan Finigan, OOFOS fearless Brand Leader & Marketing Director, creator of Project Pink.
With my heart broken wide open, and my awareness greater than ever, the event came to an end and I was reunited with Jane for some sights and tastes of Chicago…like how can you hit the Windy City without some deep dish?!?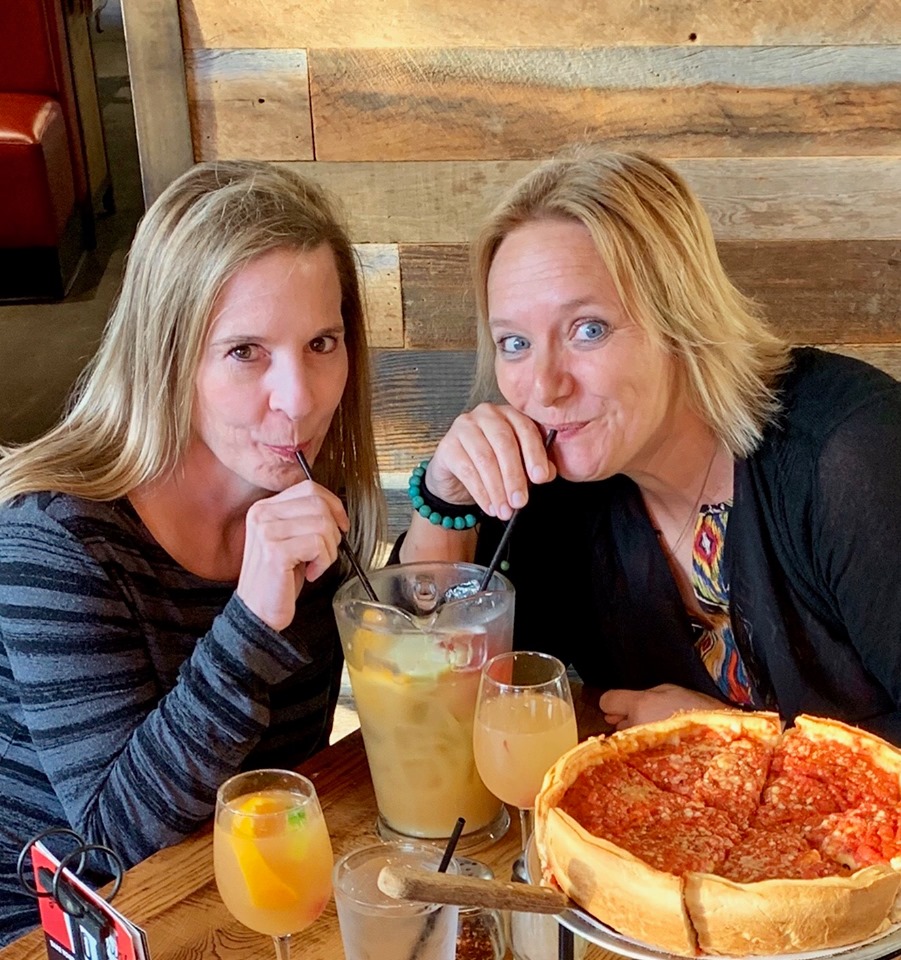 Oh, how we celebrated with a heck of a YES to that pitcher of sangria! Uff-da! Or explore the city without a stop at an icon or two…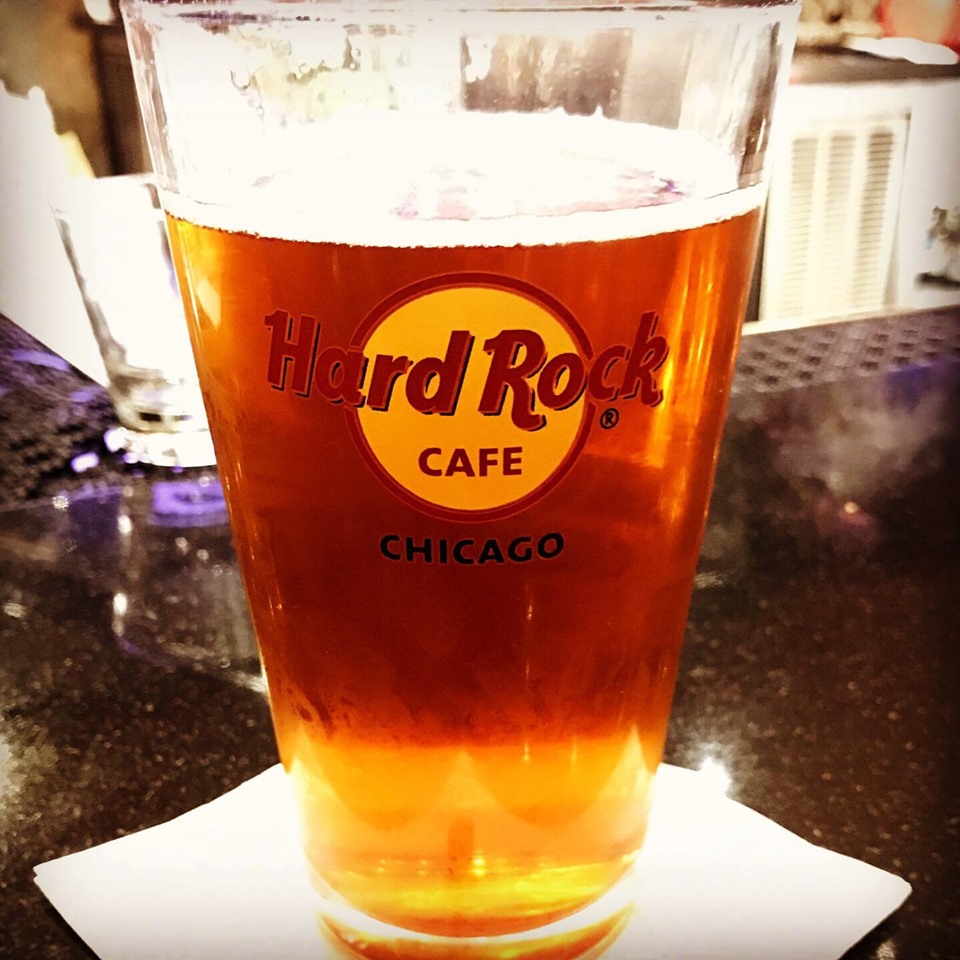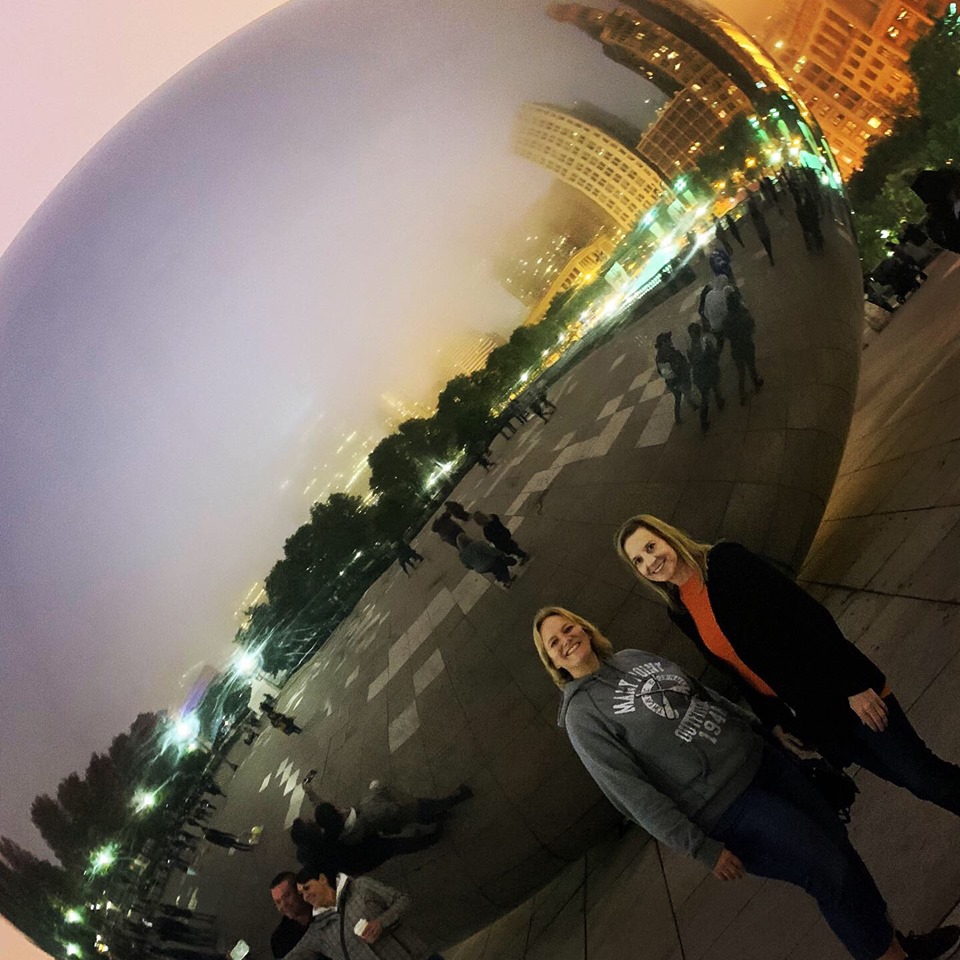 And you've got to love this chance encounter…imagine me running into a health expo at the church I chose to attend lol! No way I could say no to free acupuncture (I've been dying to try) and massage…thanks, Healing Paradise Acupuncture!
And if I hadn't done my research, I'd never have known my beloved Powell's in Portland originated from this treasure in Hyde Park…what a fun place for this book addict to play!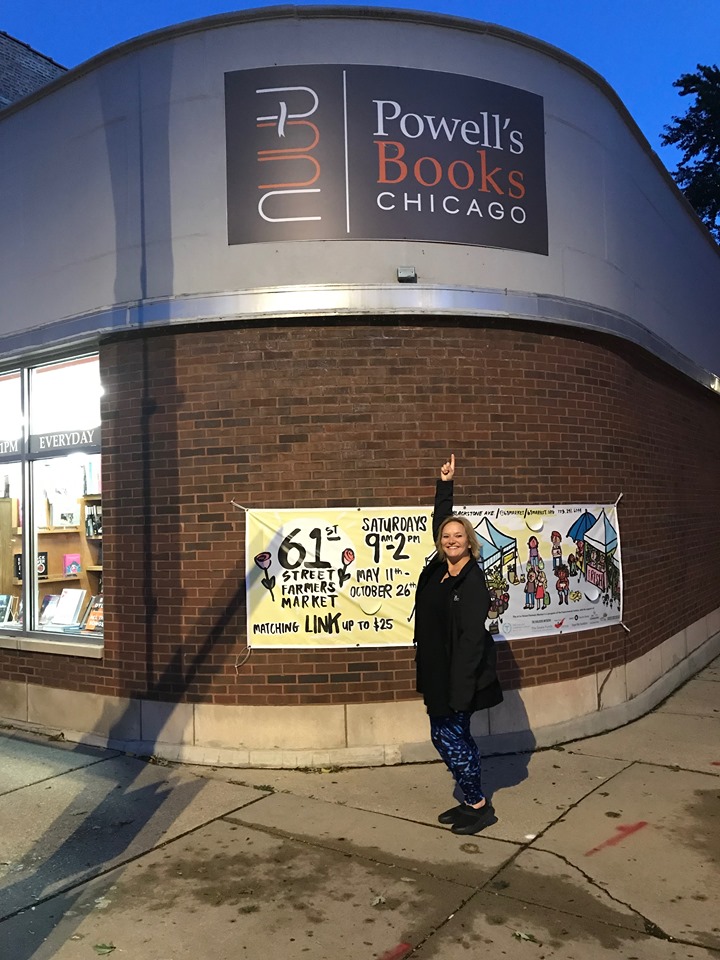 Time and again on that trip, I was reminded just how glad I was that Jane invited me (thanks, Jane!) and that I had the good sense to say YES!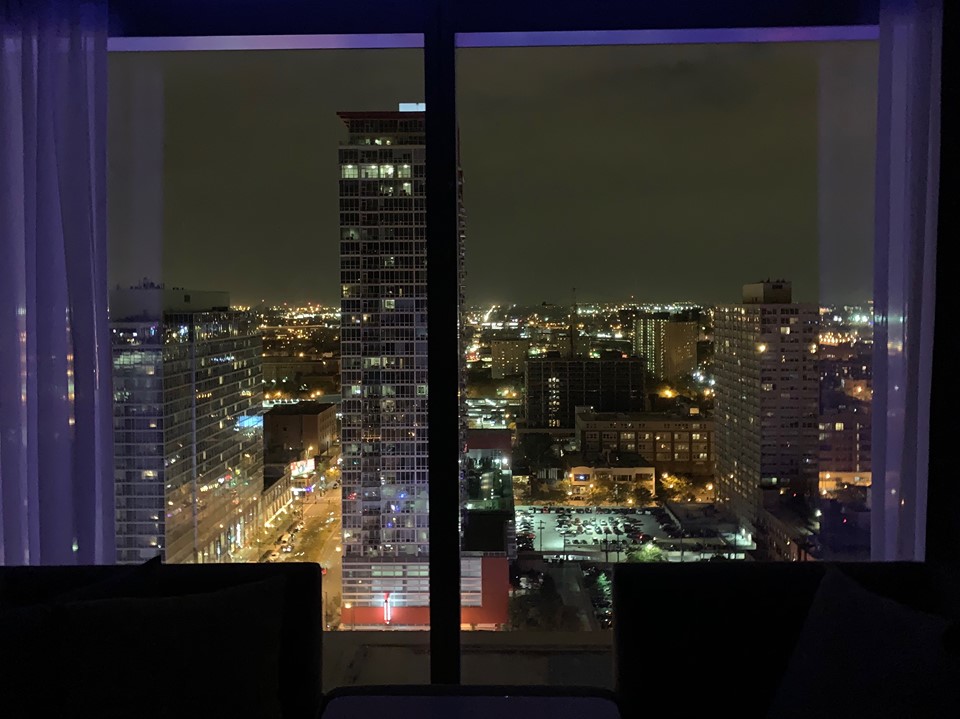 My favorite line from Yes Man kept washing over me again and again, "The world's a playground, but somewhere along the way everyone forgets it."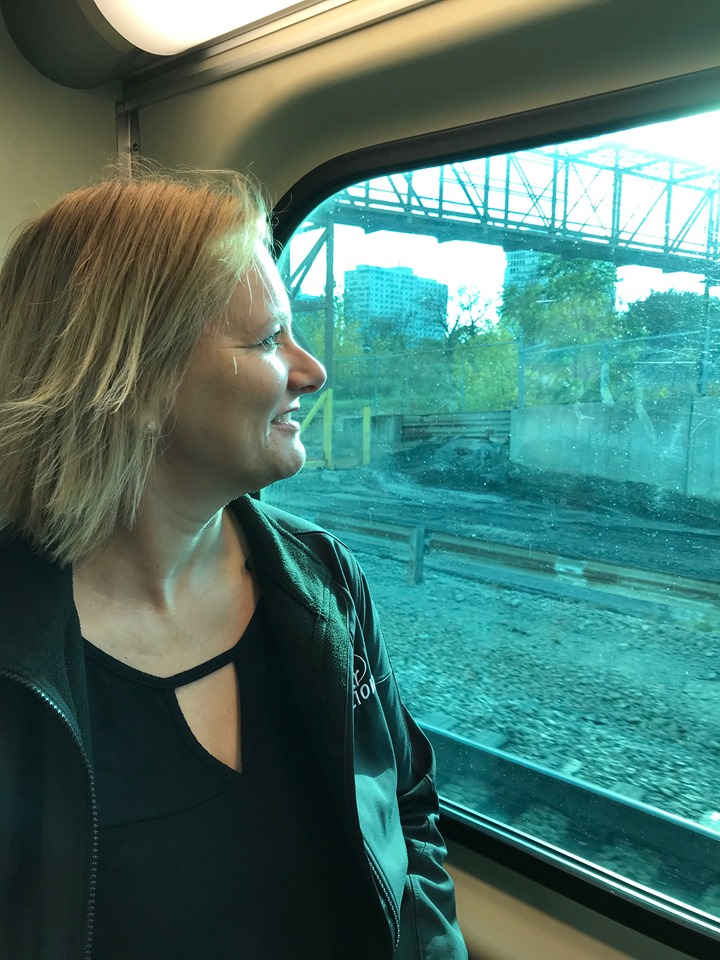 That, Friends, is something I refuse to forget! The world is a playground and I just can't seem to get enough. As I tuck Chicago away in my precious cache of memories, I look onward because I've said YES to much more in the near future. I'm preparing for an upcoming trip to Spain in a few weeks and it's time for this YES GAL to do her homework!