Happy October, Friends! I'm not sure how it's here already, but September is clearly gone. I spent last month returning to the basics to realign my focus, but I had some pretty heavy stuff to deal with following a family member's health issues. Its time consuming nature really tempted to hijack my success. Although I'd love to tell you I made great strides of progress, I was lucky to escape September holding on by my fingernails. The good news is I didn't backslide.
Many of you ask me how I stay focused, how I continue to pick myself up when I need to and start over. Friends, I look forward to the beginning of each new month because it gives me opportunity to look back, readjust and move full speed ahead. I also know I can turn the page every week if I need to…heck, each and every DAY is a fresh new chance to begin again!
So let's hit RESTART together! Today is a whole new month! I'm still facing some obstacles that keep me from working as hard as I would like, but I won't let that discourage me. Why? Because I'm grateful for what I can do. When I take time to examine what I'm still capable of, it inspires me to get out and JUST DO IT!
I'm always keeping my eyes open for new motivation, so when my husband's employee wellness program announced their October and beyond challenge, I jumped aboard. I LOVE their pic and the name…Walktober!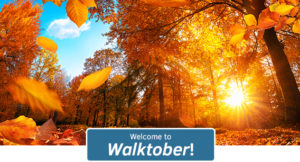 I plan to spend the next 42 days enjoying the fall foilage as I walk to accumulate points. I downloaded the Walktober app and will use my Fitbit to track my steps. I'm excited because my husband is on board too.
And better yet? Here's where you come in…I'm inviting any of you that live within a reasonable distance to message me on the FIT BFFs Facebook page to schedule a date you'd like to meet up and join me for a stroll through the crispy crunchy leaves…a walk on the trails, a hike in the park…whatever works, because the only thing more fun than working toward my goals? Not having to go it alone!!!
I'm serious, Friends! NOTHING would make me happier than having you reader friends as walking buddies each and every day of this challenge. My schedule is pretty flexible and you can pick the speed and distance, within reason haha!
So PLEASE hit me up to let me know when we can walk or hike…one more way to put our Best Foot Forward!
Seriously…let's do this!