We are already into the fourth week of January, Friends! Did you make any resolutions this year? Set any intentions? A goal or two? If so, how's it going?
Did you know that by the end of January, roughly 58% of resolutioners have already quit? Aware of this statistic, I chose to do something different this year. Instead of resolving to change myself in some way, I took a whole new approach. I began with what I already know about myself…
I'm sick and tired of numbers…the one on the scale, all those I add up as I tally calories throughout the day, those associated with how many minutes of activity I accrue, the total calories burned, total steps taken within a day, mileage distances of workouts, my heart rate, yada, yada, yada. Often, I get so wrapped up in the numbers of it all, I forget to enjoy what's really going on.
I also know when I rely on only a few modes of activity to accomplish my weekly fitness needs, the same old foods to nourish my body, my adult activity/food ADHD has me so bored I'm about ready to quit.
But I'm no quitter!
So I set an intention this year to look less at the numbers and more mindfully at the heart of what I'm doing. Simply stated, I'm changing things up, trying new things…LOTS of new things. Here's what January looked like in that respect.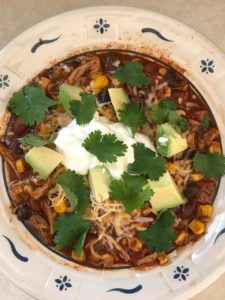 I stopped talking about all the recipes I've been meaning to try, and started actually trying them. Like this Crock Pot Chicken Taco Chili recipe from skinnytaste. Even the leftovers were the bomb!
My husband and I enjoyed that one so much we decided to take another of skinnytaste's recipes one step further…we spent datenight in…a glass of wine while preparing this…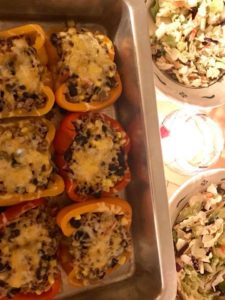 Santa Fe Turkey Stuffed Peppers…another skinnytaste hit! Add a salad, some candlelight and the rest of the wine and it resulted in one of my favorite dates ever!
I've been using Great Lakes Gelatin products in my coffee for months to promote joint support and mobility. I thought I'd take it a fun step further by experimenting with a tried and true recipe…my cranberry baked oatmeal has new-added benefits!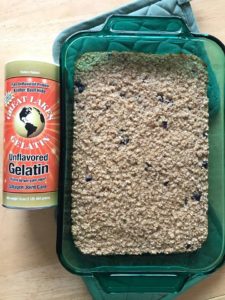 This try new things intention was certainly not limited to the kitchen. There are still many classes and activities I have yet to try that have been speaking to me for quite some time. It seems all I had to do was keep my eyes open for signs. I followed one to this blacklight ride at my gym.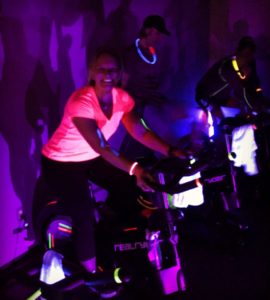 With such a change of atmosphere, I forgot I was at the cycling studio; it felt like the party of the year in there! That got me thinking, what else have I been missing out on? Next, I found my way to a Cardio Jam class that had me stumbling all over myself, but got a sensational cardio burn. And while we're talking about fire, I took a Pilates Mat Core class that kept my core ignited for days!
The more new I tried, the more I knew I was onto something! I continued to watch for signs and found myself registered for a session of intro classes on the Pilates Reformer. This has been a class I've been pretty intimidated to try for quite a while, so I figured it was time!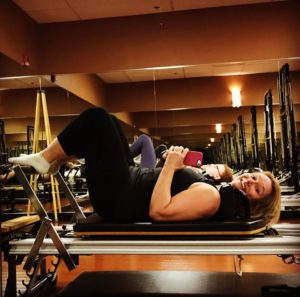 This past year I acquired a pair of cross country skis fresh from the universe (I love when that happens)! The conditions were perfect last week, so it was time…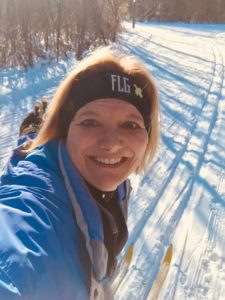 And just the other day I spotted one more sign for a class I knew was meant for me. I mean, why wouldn't I try blindfold yoga?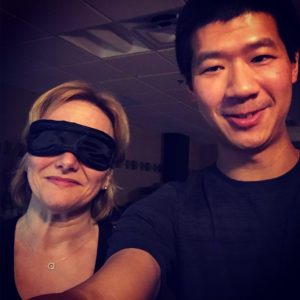 This phenomenal instructor reminded me I have a lifetime of lessons to catch up on if I'll simply turn my gaze inward.
So there you have it, my first three weeks of January. Rather than preparing to ditch a resolution, I'm hot on the trail of continuing full steam ahead with an intention I LOVE…my sampler of sorts. I can't wait to see what the months ahead manifest!
Friends, I hope you are making progress on your goals, intentions, and yes, even those resolutions. I'd love to hear about how it's going! Leave a comment below if you'd be willing to share. Also, if you have any recommendations or suggestions of what you think I should try this year, drop those ideas below too! Remember, nearly nothing is too crazy!
Keeping it fresh, changing it up…another extraordinary way we can all put our Best Foot Forward!