Happy Friday, fellow FIT BFFs! You know how much I LOVE trying new things and when I discovered this latest find, I couldn't wait to share it with you!
Let me back up a moment to inform newer readers and remind returning folks that I make it my mission to try at least one new item every time I grocery shop. This keeps me from falling into food boredom and helps me stumble upon my new favorites. I should also mention that I am a fan of the incredibly low prices and wide selection of healthy options Aldi offers…makes eating healthy so simple!
Speaking of simple, Aldi carries their own line of organic products called SimplyNature. Yesterday I discovered this Seedtastic bread containing an impressive 21 whole grains and seeds! I've been in the mood for avocado toast, so that's exactly what I thought of when I spotted this bread.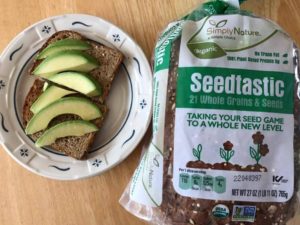 Friends, it did NOT disappoint! It was so good, in fact, that I decided to take the avocado one step further today. For those of us observing meatless Fridays, check out this little avocado toast/egg salad number I created for lunch.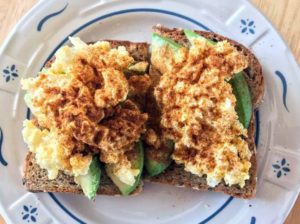 It was so easy…toast a slice of Seedtastic bread, slice up 1/4 avocado, mash a hard boiled egg and mix with 2 tbsp light mayo, place over the avocado, sprinkle with paprika and voila…a nutritional powerhouse containing a mere 285 calories.
I'm so glad to have found this bread, I'm already looking forward to tomorrow morning's peanut butter toast!
Friends, next time you're in the grocery store, challenge yourself to purchase at least one new item. I'd love to hear what you choose, so leave a comment when you do! And remember, trying new things is one more great way we can all put our Best Foot Forward!