Fellow FIT BFFs, I have a confession to make. I have a ridiculous tendency to ignore my basic needs; do any of you relate?
Here's an example…I've been struggling with knee issues for 8 months. After cortisone and physical therapy didn't solve my issues, rather than pursue further care, I settled by overlooking the pain, limitations and frustrations. Day after day, I allowed this to continue by not making its resolution a priority. Although it was keeping me from activities I've desperately missed (RUNNING), I simply ignored it. Now how ridiculous is that?!?
If this was my husband or either of my kids, I'd be on it! Why do I still struggle with this idea? Why did I put me off for so long? After messaging a friend over the weekend, I realized it was time to address this. Of course he was right. What the heck was I afraid of? Yeah…I won't even go there haha!
So yesterday I called Sports Med and made myself an appointment. But it isn't for another few weeks. I needed relief now…more relief than icing can provide. I looked at my shoes and realized I'd been putting myself off in that department too. There was nothing left to do but get to the running store!
It's been quite a while since I've had my gait analyzed, and was kind of surprised to find I needed an entirely different type of shoe. Mallory, the shoe guru at TerraLoco had me try a couple options and I knew the instant I put these Hokas on that I'd found the ones!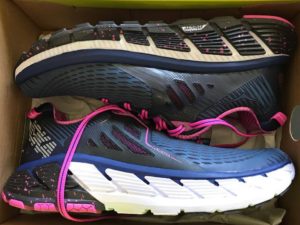 My cat completely agreed with my choice the minute I got them home…oh, Spanky!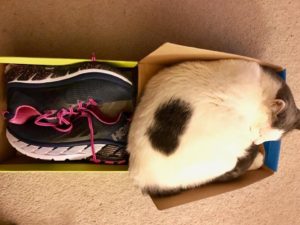 I could hardly wait to get to the gym this morning to get my new kicks on the track. And do you know what? Although my older shoes still, theoretically, had many more miles to go, my new ones felt a hundred times more supportive!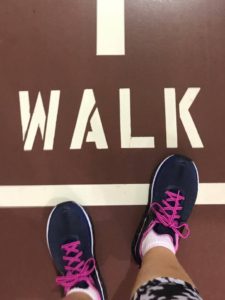 I guess I took a step in the right direction, who doesn't want dynamic stability? Ha!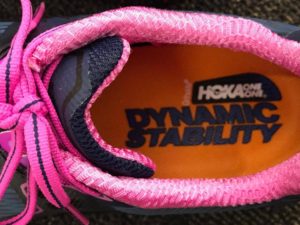 I'm actually looking forward to that Sports Med appointment because with today's diminished pain, I'm already happier…think of what no pain will do for me!
While I was at this self-advocacy thing, I decided to give my comfort zone another square kick in the behind. Following last year's multiple episodes of mammogram/biopsy/surgery drama, I realized it was time for me to make my annual date with the boob-smasher…yikes!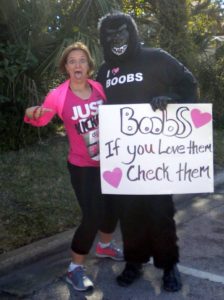 Although this was the very last thing I wanted to do, I picked up the phone and scheduled that too. Why give it any more energy or power than it deserves…time to just get er done!
Friends, can you relate? Are you a self-avoider or advocator? Is there something important you need to deal with that you've been putting off? It's time to treat yourself at least as well as your loved ones. And if I can do it, so can you. It's just one more way we can all put our Best Foot Forward!