As summer winds down, and the mindset shifts back to school, I made a horrible realization! And boy have I got a confession to make…summer literally ate my homework! I'm not even kidding! I meant to write a review for a pair of patriotic OOFOS well before July 4th so you could all celebrate with your own pairs of their festive OOriginal Sport Sandal Red, White and OOs…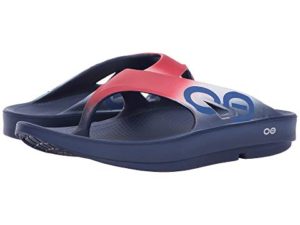 But time slipped completely through my fingers, Friends, or maybe my toes! Well if you've been following me for a while, you already know what I think of OOFOS. But for those of you who've only just recently joined in, I can't tell you how excited I get about a new pair of these amazing sport recovery footwear. The minute I pull them out of the package, I take a big sniff because there's nothing like that new OOFOS smell! It's just like the smell of new tires and it immediately makes me consider all the miles I will get on them because I know they treat me oh, so right!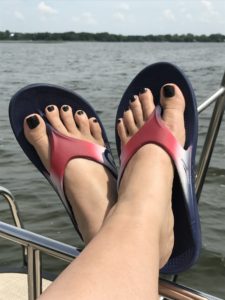 This pair pledged allegience to the flag at multiple lakes as I spent all the time recovering from each workout and embracing the relaxation…and none of the time remembering my assignment. Ugh.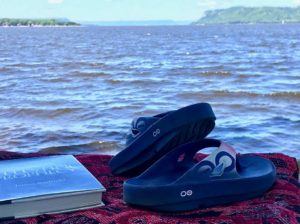 They found me further recovering from my chronic knee injuries with some great reads!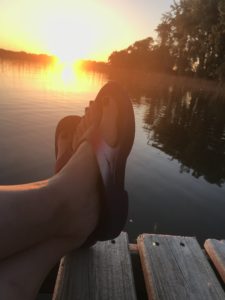 These Red, White and OOs even saw me from (dawn's early light) sunrise to shining sunset…all the while, forgetting to inform readers about OOFOS' liberty and justice for all sore and aching feet, knees and backs. Man, I feel horrible. I have no excuses to share, other than I guess I was just so busy being active thanks to all the phenomenal support these and my other OOFOS provided throughout my summer adventures, that it just slipped my mind.
There was recovery from Tour de Pepin in these OOlalas…boy, did my butt hurt, but the rest of me felt the OO!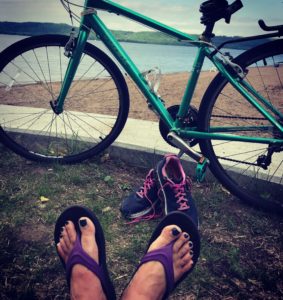 And then there was my trip to Blogfest at the IDEA World Fitness Convention in San Diego, where I took this sunny opportunity to strategize my time there…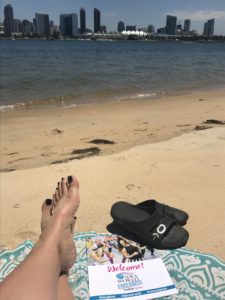 And then was stoked to personally thank these guys at the expo for their company's incredible impact absorbing OOFOAM technology. Man are they a happy bunch; I know why…even after being on their feet for multiple days on end, they were all feeling the OO tOO!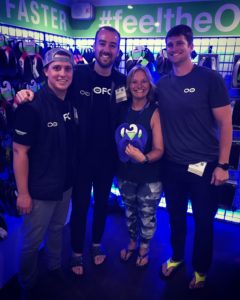 I walked mile after mile of that convention center and and those beautiful beaches tOO, and I did it all with my favorite footwear!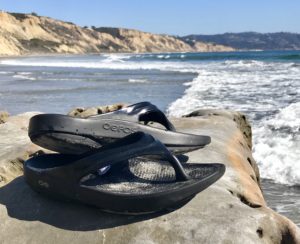 I could have seriously stayed right there all summer, but I was days away from one of the most exciting events of my life, so back home I hustled, literally running through the airports in comfort to be back in time for my son's wedding. Sure, I wore a cute pair of insanely uncomfortable wedges for the ceremony and pictures, but the minute they were done, I slipped on my black glitter OOlalas, soft as clouds as I swooned over the enchantment of it all…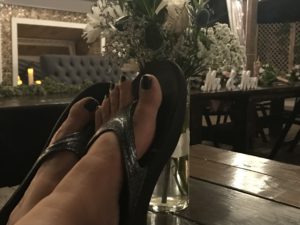 And danced on air!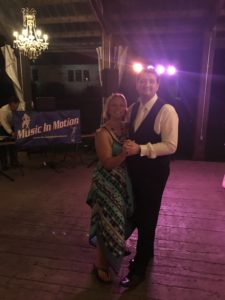 And wouldn't you know, I was off again this time to Montana, to see more of the land of the free on these brave babies!!!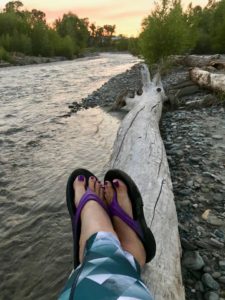 My summer has seen me through marked healing; my knee is now pain free! I KNOW I owe much of that to my friends at OOFOS! So I hope they accept my profound appologies when I honestly say, my summer ate my homework!
Friends, if you are suffering from foot, knee or back pain, please don't wait until next summer to feel the OO…OOFOS now has a full line of shoes tOO! Although it looks like the Red, White and OOs are only available in slides right now, check out all the other great, colorful options to help you put your Best Foot Forward at the OOFOS website here.