Friends, I've been home from Colorado for more than a week and I keep returning to what a memorable success it was. If you missed Part 1, you can read it here. In that post I mentioned some mindful modifications we'd made to our standard vacation for better outcomes.
That week progressed quite nicely into one of my favorite trips of all times. We continued to venture out of our condo every morning with a new version of the same view…
And if that awe-inspiring daily welcome wasn't enough, we drove all of two miles to enter this phenomenal playground…
Eric, Connor and I spent an afternoon exploring Rocky Mountain's Bear Lake. Although it was still frozen over, it provided the freshest air, great vibes and opportunity to get lost in it all!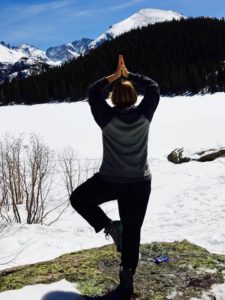 That afternoon beat any video game, thrill ride or entertainment…nature is all we needed!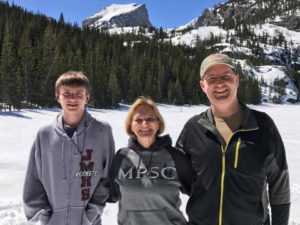 As the afternoon wound down, it was time to meet up with my college friend, Lynda.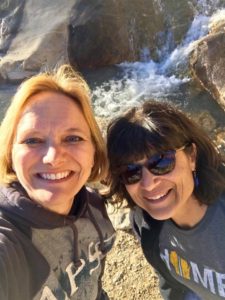 And it's great we did because she knows that park like the back of her hand…she took us places that blew my mind! Thanks for a spectacular tour and evening, Lynda!!!
If I lived close to this, I would come every single day. I don't think it could ever get old! This waterfall was both enchanting and mesmerizing.
I just couldn't leave without some more yoga. It just seemed like the right thing to do!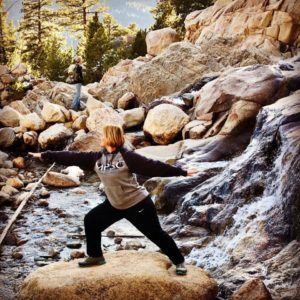 That day's light, love and energy seeped clear into my bones and soul.
Our week in Estes Park continued to be a challenge for me to eat healthy, but if one looked hard enough, good choices could be found. Take for instance this entree from The Egg and I…LOVED it!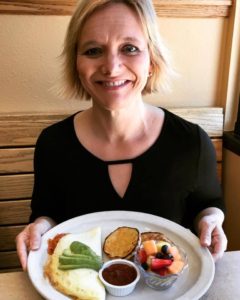 I needed to keep fueled for our last day because I had something important to check off my bucket list. Since the moment I'd seen this place on an episode of Extreme Weightloss, I knew I had to go!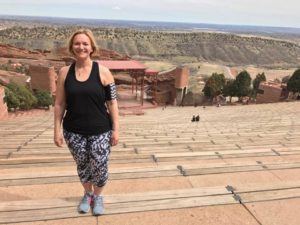 Red Rocks Amphitheater has played host to countless performers and their sold-out concerts on hot summer nights. But in daylight, this venue welcomes those looking for an unforgiving workout. It was exactly what I was hoping for on our final day in Colorado.
Because my knee was less than functional, I had to run/walk, but that didn't take away from the amazing accomplishment I felt having traveled across each of 69 rows down, then back up again. I logged five miles of harsh slopes and relentless heat.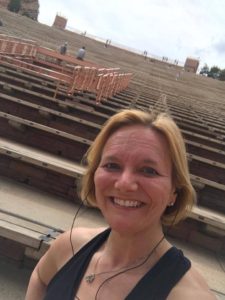 I was ecstatic too, because although this was likely not on Eric's bucket list, he got me there and even joined in!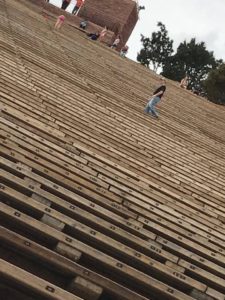 That workout took all I had within me that day…I left it all there! Which turned out to be a good thing because the next day and a half was spent driving home from this astounding vacation.
The drive home was somber, it was tough leaving such beauty behind. I replayed the amazing experiences we'd had over and over again in my mind and heart. That second day on the road, although tiring was an a-okay way to spend my birthday. Why? Because my beloved Pita Pit was only a couple hours from home!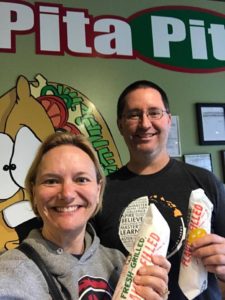 Friends, I think we finally got this vacation balance thing right! I returned home tired but nothing like trips of the past. I'm recharged and ready to work on that bucket list of mine…a list I never bothered dreaming up until my weight loss transformation proved was possible!