Friends, it's very hard for me to believe what blessings this past year has brought my way. Exactly one year ago this morning, I was in Honolulu starting a marathon…A MARATHON! I admit, if you had told me two years ago I'd run one, I would have told you, "Impossible!"
I'd only just begun running the year before, and never imagined in a million years I would run 26.2 miles. In one day. For fun. Yet I found myself meeting up with Rhonda and Matt, complete strangers at that time, to do exactly that!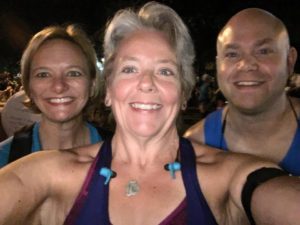 Just a few short years before, this concept was impossible. Unthinkable! Because at 246 pounds, the first few miles would've surely induced cardiac arrest!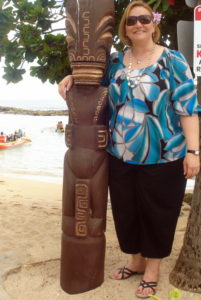 But having lost the weight, adopted healthy eating habits, a love of fitness and a wellbeing in my soul, I allowed myself to think crazy thoughts. And when certain thoughts just couldn't be ignored, I set goals. Little by little those goals became realized dreams I never even knew I had a few short years ago.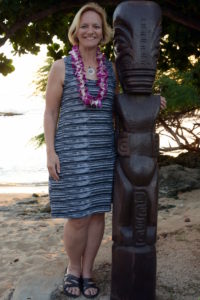 It took everything I had to give that day, but I knew all along it was there.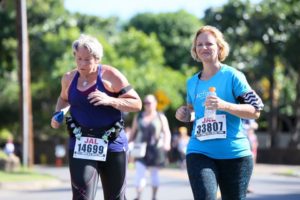 And when it was done, I was able to say what I never thought I could…I was a Marathoner!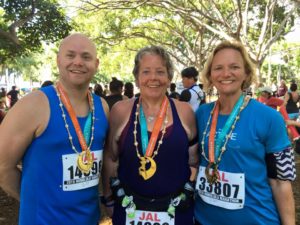 And better yet, with continued determination, the astounding generosity of others, despite injuries, health setbacks and mental blocks…these further impossibilities became realities:
Carlsbad Half Marathon, Carlsbad, CA (January)
Donna's Half Marathon, Jacksonville, FL (February)
San Diego Half Marathon, San Diego, CA (March)
Beginner's Luck Half Marathon, Henderson, NV (April)
La Jolla Half Marathon, La Jolla, CA (April)
Rockin' Robin Half Marathon, Rochester, MN (May)
Med City Half Marathon, Rochester, MN (May)
Mammoth Lakes Half Marathon, Mammoth Lakes, CA (June)
Bubble Run 5K, Madison, WI (June)
Mini Iron Man, Many Point, MN (June)
MN Nuthouse 5K, 10K and Half Marathon, Rochester, MN (July)
RAGBRAI 420 miler, IA (July)
Ragnar Great River, WI/MN (August)
America's Finest City Half Marathon, San Diego, CA (August)
Med City Fall Half Marathon, Rochester, MN (September)
Mankato Half Marathon, Mankato, MN (October)
Marine Corps Marathon, Washington, DC (October)
Rock'n'Roll 5K and Half Marathon, Las Vegas, NV (November)
Silver Lake Walk with Friends Half Marathon, Rochester, MN (December)
And to think it all started a year ago today; all of it seemingly impossible, yet…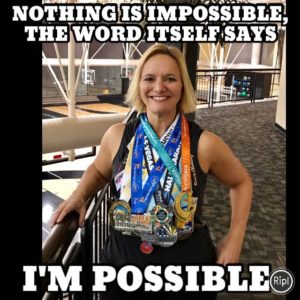 Friends, you can do ANYTHING you set your mind to…ANYTHING! Believe in yourself, your hopes, dreams and ambitions. Set multiple short and long-term goals to get yourself there. Tell yourself I'M POSSIBLE and put your Best Foot Forward; there's no telling where we can take ourselves if we remember NOTHING is impossible!