Friends, I made a breakthrough of epic proportions last night which I'm feeling led to share. I don't even know if it will make sense to anyone else…but here's hoping!
My epiphany began when I lifted the remnants of a sweatshirt, my favorite sweatshirt from it's resting place.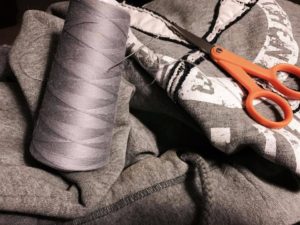 It had been balled up in my mending basket for quite some time. I messed with it every so often, but each time it left me feeling broken. It still held heavy memories that I continued to stuff down, feelings I thought had been dealt with long ago. But as I picked it up again last evening, that heaviness bubbled right back up. I knew that if I didn't face this baggage, release and set it free, it would continue to resurface again and again. It was time.
If you've been reading for a while, you may know I was injured in a serious car accident a while back. If you need a refresher, here's a post about it from last year.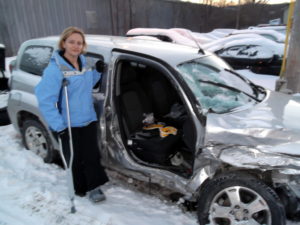 Maybe if I'd thrown the sweatshirt away like the rest of my clothes from that night, there would have been no reminder. But I had a plan for that thing that involved healing. I knew at some point, when it was stitched back together, I'd likely be whole again too. Here's what its shreds looked like after being cut off me in the ER.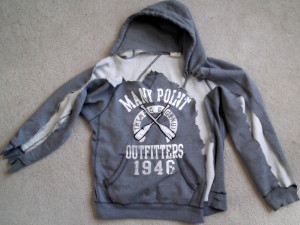 Only one cut-length remained last night when I was determined to finish it. As I began stitching, my body tensed up something fierce; it's like I was reliving the pain of my healed injuries. See, I thought I'd fully recovered from it, but my mind continued to present me with notions I hadn't considered earlier. This past year had been filled with a ridiculous amount of training runs and events…marathon, half marathons, Ragnar.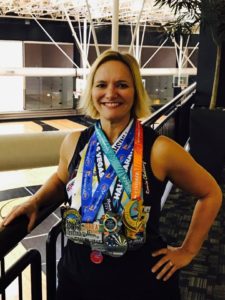 And, mile after mile of training rides in prep for RAGBRAI, the little 420 mile bike ride across Iowa.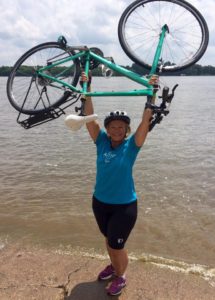 On several occasions throughout that busyness, people asked why I was pushing myself to that degree. Upon much soul searching, I didn't have an answer. I simply didn't have a clue. I mean, I thought maybe I continued to push the limits to see how far I could go. But as physical breakdown soon replaced the fun and adventure, I continued to push through the pain, as if forced to continue.  I didn't know why, until last night!
The closer I came to completing the mending, it became clearer and clearer. I'd relentlessly pushed this past year to prove the accident had no hold on me. How ironic, because in working that hard, it became clear it had a stronger hold on me than ever. And there it was, I was face to face with the baggage!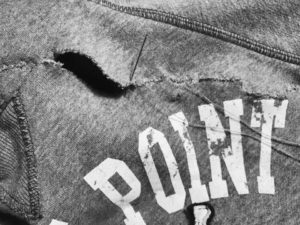 The realization hit me in the feels…HARD! With only a couple inches left to stitch, the tears rolled down as I let it all out. I can't tell you how freeing that was. How crazy to think it took this long to figure out. I couldn't help wonder if I'd finished mending the sweatshirt much earlier, would I have reached the same, important closure then? Who knows. The important thing is that it happened.
I'm relieved to have finally figured out what I was running and biking from. I'm ready to do things now because I want to, not because I had something to prove. As I placed the last few stitches, in that moment of clarity, came peace…and my fully mended proof that I not only survived, I THRIVE!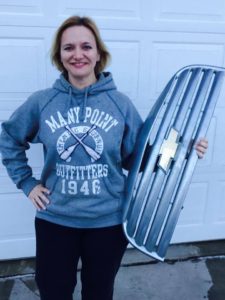 I'm looking back at that night three years ago, one more time. When I consider how differently things could have turned out, gratitude completely washes over the entire experience. My husband and I still have each other. Our boys still have their parents. My body has attempted and pretty successfully proved nearly unstoppable. I still have my favorite part of the car! And my sweatshirt, although noticably scarred, is whole again, and still my favorite!
It's become a work of art, really. I've entitled it What Doesn't Kill You Makes You Stronger, and I intend to wear it and feel its/my strength for years to come!
Life is good, Friends…damn GOOD!