Happy Win-It Wednesday, Friends! I want to take this opportunity to thank the generous folks at OOFOS for their unwavering support in my endeavors and providing today's amazing giveaway prize…thank you, thank you, THANK YOU!!!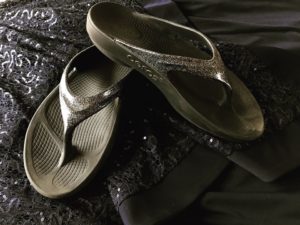 I'm excited to announce the lucky winner of the Black Glitter OOlala Luxe Sandals is…
Congratulations to Patty!
I will email you for shipping details, Patty.
Thank you to all who entered. If you did not win but are looking for the ultimate in support and sport recovery relief, you can treat your feet…pop on over to OOFOS website right away so you can feel the OO too!
This FIT BFF is here to tell you, OOFOS is one of the best ways I know to put our Best Foot Forward!