Friends, before I began my weight loss journey, I ate out all. the. time. I based my choices on what looked good and never made informed decisions. This mistake weighed heavily on my health…literally.
I've learned occasional dining out can be a wonderful adventure as long as one employs mindfulness. When planning to dine out, I simply take a moment to browse the restaurant's online menu to determine what choices would best suit my nutritional needs. Many restaurants offer very accessible info…I LOVE that!
Some restaurants take it one glorious step forward by posting calorie information on their menu boards. I can't say enough how much I appreciate that. I took the opportunity to meet someone for lunch at Panera today. What a wonderful feeling to know I can quickly skim their menu board and order something delicious and nutritious!
Take a look at this BOWL OF AWESOME!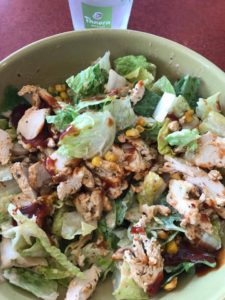 It's been a while since I've eaten there, so this salad was new to me. You are looking at their BBQ Salad with Chicken. It comes in this enormous bowl and with the sheer volume of food and the amazing flavor, I never would have guessed there were only 470 calories in that giant salad!
It is one thing to pick an item based on its calories, it's totally another to choose it because it's phenomenal. Guess what I'm ordering next time?!? Way to go, Panera!
I've noticed other restaurants beginning to post calorie info on their menu boards too.  These are the places I will choose last minute because I know what I'm getting. Friends, eating out doesn't have to be a disaster for your goals. Take time to make mindful choices so you can enjoy your meal even more…just one more way to put our Best Foot Forward!