Happy Win-It Wednesday, fellow Friends! I want to take this opportunity to thank the generous folks at Aurorae Yoga for providing the fantastic yoga prize package to help celebrate FIT BFFs' 3rd Blogiversary…thank you, thank you, THANK YOU!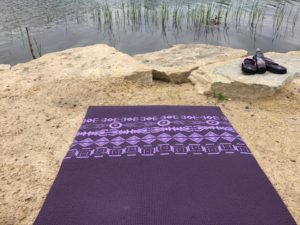 I'm thrilled to announce the winner of the Aurorae yoga mat, Hawaiian Island Afternoon aromatherapy spritz, yoga flip flops and yoga Mat Sack…
Congratulations to Amy P!
I will email you for shipping details, Amy.
Many thanks to all who entered. If you did not win, but are still interested in these and many more amazing products, stop by Aurorae Yoga's website to see what a wonderful assortment they offer.
Stop back later today when we will continue celebrating with another Win-It Wednesday giveaway!