Hey, Fellow FIT BFFs, I'm working on a cool Nutrition Scavenger Hunt that's taking place at my gym this month. One of the tasks included is to prepare one new recipe a week from the in-house dieticians' cookbook. I opted to modify the recipe to include the Seedtastic bread I found at Aldi last week. If you missed my excitement over that bread, you can read about it here.
It's no secret…I LOVE avocados; this is a great meatless recipe that incorporates that love! Here's my modified version…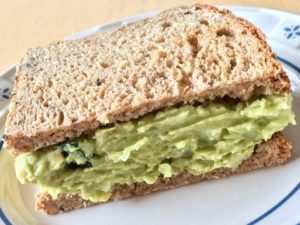 The Garbacado Sandwich
Ingredients:
1 slice Aldi Seedtastic bread, toasted
1/4 avocado
1/4 cup garbanzo beans
1/4 cup chopped cucumber
salt to taste (I used Himalayan salt)
Directions:
Mash together garbanzo beans, avocado and salt, mix in chopped cucumber. Cut toasted bread in half. Place garbacao mixture on bread, enjoy open-faced or classic sandwich-style.
Contains 232 calories, 36 grams carbs, 8 grams fat, 9 grams protein, 11 grams fiber