Friday evening I was sprawled on my couch with little to no ambition. I was feeling a little sorry for myself which could have easily set the tone for the weekend. Then something phenomenal happened…something that came completely out of nowhere but had the power to snap me clear out of my funk. Here's what I'm talking about.
I received a message on my FIT BFFs Facebook page from a reader that stumbled upon my blog. She found a post I had written on a local running page last year and found me "incredibly inspiring!" She had a few questions so we began to message back and forth. Thrilled that we belong to the same athletic club, I suggested we meet for a walk so we could talk further.
I was so excited Hailie was willing to meet Saturday. Little did she know she rescued me from my self-wallowing…so much so, that I arrived a couple hours early to the club before we were to meet so I could catch a studio cycling class and a mile swim before we walked. Two things I probably would not have done otherwise.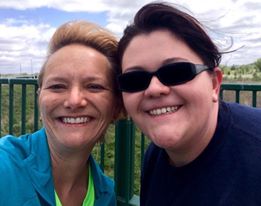 Our walk was amazing! It was cold and windy, but our little 4.82 mile chat kept us warm. I shared some of my journey with her and lucky for me, she shared hers too. I love that her courage to reach out to me because I inspired her truly worked both ways. I really needed that! I also love that she's exactly half my age…how cool is that?!?
It was clear to see we will be fitness buddies, I can't wait to see what we do together next…maybe yoga?!? We became Facebook friends, so I just marked another person off my Facebook Friends Resolution!
So the moral of this story:  if you've been inspired by someone, tell them! It might be the motivation they need too!
Meeting you Saturday was a gift, Hailie; thanks for reaching out!