Hey Friends! I know it has been a while; I've been on another adventure where I had very limited writing time and wi-fi. But it's all good! Remember how I've been devoting one day a month to me, to rejuventate and recharge? Well, I took that one giant leap further to enhance something I don't normally look forward to…here's what I mean.
For the past few years, my brother and I have taken turns driving with my mom in her RV, accompanying her to and from her winters in Arizona. Although I enjoy spending time with her, I never looked forward to this trip. It was three days of nonstop driving and very little sleep, and also required extra travel to either fly there or home to complete the journey. I had a tough time imagining the trip again this year until I considered reconfiguring it into something more fun and enjoyable for both of our sakes. Continuous improvement at its finest!
So why not make this a we trip. Not the kind where we kill ourselves to get there in three days, but an adventure with multiple stops to make memories? Looking at my November calendar, it was very right that this trip would coincide with my monthly me day and some races I had previously registered for. So here's a look at Arizona Roadtrip 2016!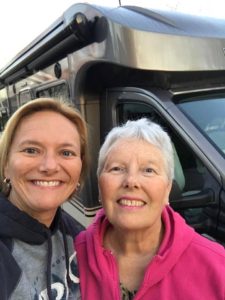 We left Rochester early one morning, determined to put lots of miles behind us before stopping for the night. My mom traded in her previous Winnebago for a shorter, sleeker model this year, one that's a diesel dream to drive…great choice, Mom! We headed west to avoid major construction to the south of us. I mean, why make things any more difficult than they need to be? As we stopped for gas that night, we were treated to this amazing sunset…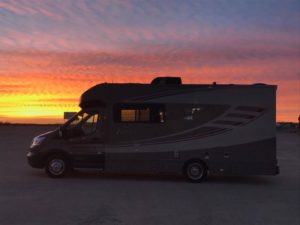 We ended up in Rapid City, SD that night. Incidentally, it happened to be election night. It seemed only right we take a little time that next morning for a bit of a detour here…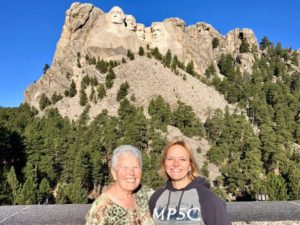 A chance to ponder some amazing presidents of our country's past as we hiked along the Presidential Trail. A chance to become one with nature as we were greeted by this goat, perhaps enjoying some me time of his own.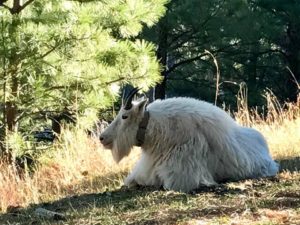 That was a great opportunity to get some activity in before we hit the road for several hundred more miles. As it grew dark, this guy wouldn't budge, so we took his suggestion to stop for the night in Rawlins, WY…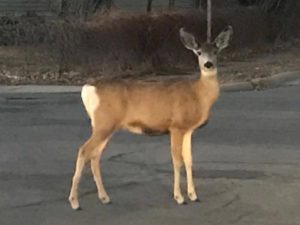 Our next day was filled with breathtaking scenery as we traveled through the rest of Wyoming and into Utah. Here are just a few glimpses of what we saw from the road…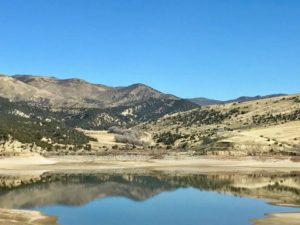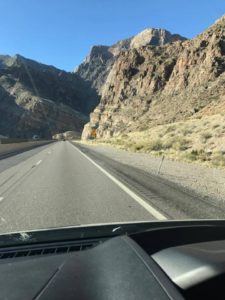 I made a point to continue my healthy eating on the road and was delighted to find two of my favorites just yards from each other in Provo. We have neither of these at home, so what tremendous luck!
Thanks Pita Pit and Bowl of Heaven, just for being there! We stopped in Cedar City for the night and indulged in a soulful pause the next morning where I enjoyed a coffee for my favorite peep currently deployed in Afghanistan. We texted over a delightful Ethiopian blend…
And we were off! I was really looking forward to this part of our journey…Vegas, Baby! I had plans to meet up with some running buddies at the Rock 'n' Roll Expo where we picked up our race bibs…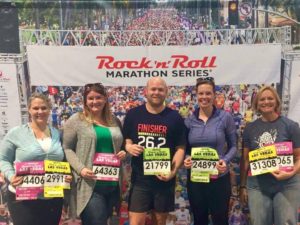 Soon we were running the 5K together. My legs had had several days of rest, so things went well. It was a gorgeous night to earn some bling! Incidentally, I was able to mark Lindsay (in the pink) off my Facebook Friends Resolution…YAY!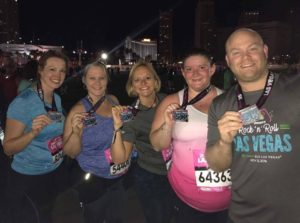 Meanwhile, my mom and I had parked the RV in front of my cousin's new home in Henderson and we enjoyed some R & R the next afternoon…what's not to love about this?!?
And being mere days from snow at home, I relished in the chance to soak in some sun…ahhh!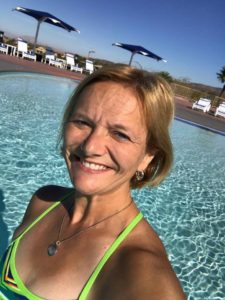 Later that evening, it was back to the strip to complete my 13th half marathon this year. I'd like to say it was my best, but with all the injuries, aches and pains this fall, it turned out to be my slowest and most difficult. Regardless…a WIN!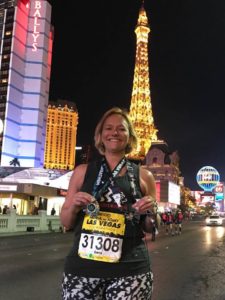 We spent one more wonderful day recovering/sightseeing with my cousin and her husband before we continued on our way. We made a stop in Flagstaff for some shopping and more Pita Pit. I had one more magical stop in mind before our destination, a place that feeds my soul…Sedona! We spent the night there and woke up to this natural playground!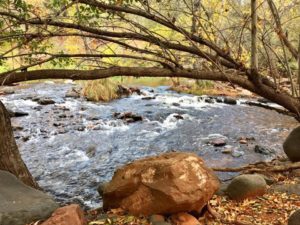 We took time to wander to places we hadn't seen the last time we were here…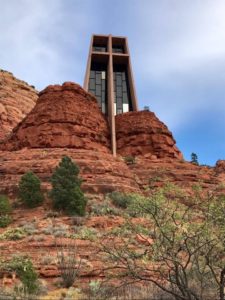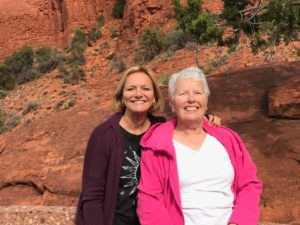 There is stunning beauty around every corner in this place!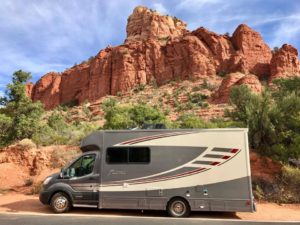 After some shopping and lunch, it was time to finish our trip…we rolled on toward Coolidge, AZ. We just finished setting up in my mom's winter playground when we were greeted with this…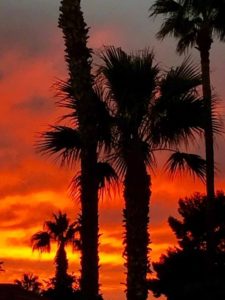 And just like that, she was all tucked in and home for winter!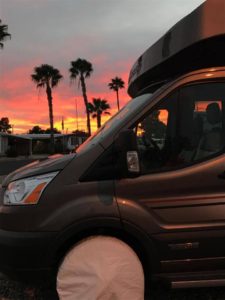 What a fantastic trip we had, stretching out our travel to take in some beauty, family, friends and fun along the way…a major improvement from the migration of previous years. I think we got it right this time! There was only one more thing to do, just a few more hours of me time before I as back home.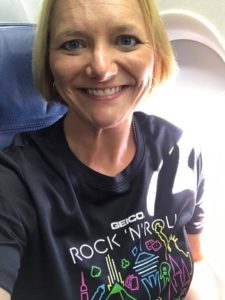 And as Delta says, there's no stop in me, only go! This turned out to be the perfect trip, but I have to admit, there's no place like home!
Friends, next time you are faced with a task you are less than excited about, look at it from another direction. Figure out how to make it time well spent doing something you love. It's one more great way we can all put our Best Foot Forward!