Friends, when my boys were young, we lived at the public library. Their constant hunger for knowledge was regularly satisfied with a large tote filled with new books, computer games, music cds, audiobooks and movies each week. Their eyes lit up like it was Christmas when they'd spot something that sparked a new interest, and we were often mesmerized at the sheer volume that building held. I often wondered, if a person calculated the msrp of all the materials we'd borrowed, how many millions of dollars the library afforded my little learners!
We were often treated to some wonderful enrichment opportunities there as well. Storytellers, magicians, musicians, artists and scavenger hunts to name a few, all these priceless educational activities…FREE!
My boys are in high school and college now; although no longer frequent patrons, a homework assignment sometimes brings us back. And now that I'm no longer needed in their search for materials, a visit allows me to realize what an amazing adult playground exists there too!
I was recently impressed with a display…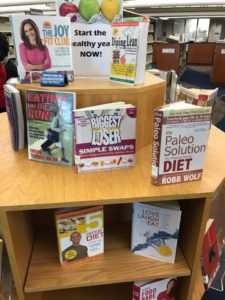 Of course, it is ever changing because these resources are constantly borrowed. A walk around the corner reveals stack upon stack of engaging resources related to healthy lifestyle, mindfulness, nutrition, wellness, fitness and beyond…and these are just the items that aren't checked out. I've spent hours on the library's website browsing the limitless offerings and reserving materials that are constantly checked out.
My favorite feature is reserving them to our local bookmobile that stops every two weeks, just two blocks from my house. These items literally come to ME!!
Friends, many of you have asked me how to live healthy on a budget. Here's an answer right here. The price is better than budget-friendly…it's free. But priceless!
Those who've told me they can't afford a gym membership or workout equipment…here's my answer to that…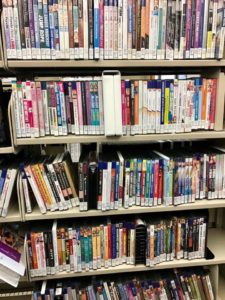 There are multiple stacks of shelves at my library with hundreds of workouts for any ability level. There is a class of your choice, available any time, day or night, just waiting for you to hit play! No membership dues, no intimidation of any gym-related nature, ready at your convenience. Some of these DVDs were instrumental in my weight-loss success early on when I was building my fitness confidence. Even now, I find a few new ones that spark my interest each time I visit.
Or maybe you find you need that community connection of working out with others? Or looking for a professional talk related to various wellness topics? Look no further…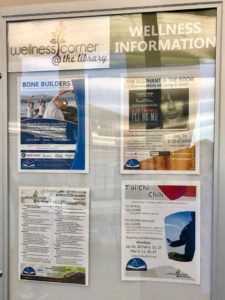 Check out what your local library has to offer. I'm willing to bet it offers more than you think. And a wonderful bonus? If your library doesn't have a resource you are looking for, many are able to borrow from neighboring community libraries or take requests for new purchases…how cool is that?
If you're looking for some fresh motivation, give your local library a visit…a free source of encouragement and one more way to put our Best Foot Forward!