I still can't shake this image or experience, fellow FIT BFFs. It has shaped my life's direction!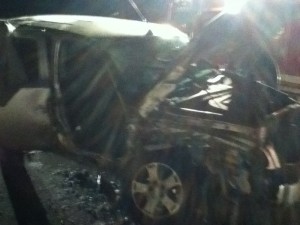 Two years ago tonight, on the way to date-night dinner, a pick-up ran a stop sign and literally slammed into me. The aftermath was bewildering. Although my husband Eric came through with minor scratches, I received the brunt of the injuries. The jaws of life pried open my escape so paramedics could safely pull me from the wreckage.
It was all very confusing, but something was crystal clear. There were angels among us that evening; they left some amazing evidence I treasure to this day. The point of impact between the truck and me was cushioned by something very powerful. Angelic. That's unmistakably a winged imprint!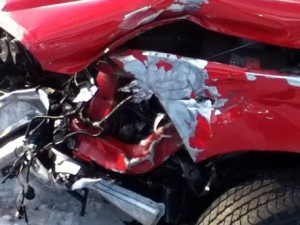 I was left with broken ribs and sternum, lung contusion, chipped clavicle, angry ankle sprain, lacerations and a crushed spirit.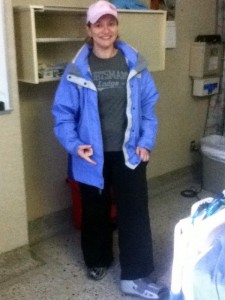 Yeah, this is a fuzzy picture, but my mind and body were pretty fuzzy, upon discharge, with all the pain meds on board too…must be why I'm smiling. I was sent home with plenty of meds, appointments for rehab and a bag filled with my shredded clothing…every last stitch had been sliced off me in the ER including my favorite sweatshirt. Sad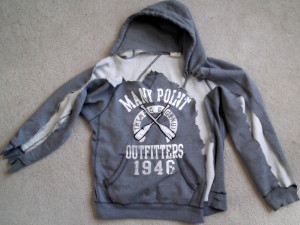 I was grounded to the couch for five weeks…a long time to analyze the situation. I wallowed. I had just lost a lot of weight and I was not happy with the prospect of its return. I was disappointed…knowing I was losing the muscle tone and cardio benefits I had worked so diligently to gain. I was defeated.
But I REFUSED to let that accident define me…
Thankfully, there was an unstoppable desire still burning deep within to overcome. Two years later, I'm stronger and more determined than ever. I'm a marathoner. I'm a WARRIOR!