I learned a tough lesson long ago about putting off my health during times of stress. This week found me seeing my husband Eric through surgery and a hospital stay. Knowing there would be plenty of sit-and-wait kind of downtime, I was determined to take good care of myself too throughout the process.
Yesterday, shortly after Eric was taken to surgery, I left my info with the nurses and took off. The old me would sit in the waiting room, worrying myself sick…but not this time. After realizing there were very few halls I could walk due to construction, I took it outside, running the perimeter of the hospital grounds. Since is was crazy-cold out, I then came in to walk the rounds again for warmth. Once thawed, I took another lap outside, then inside…yada, yada, yada.
After all was said and done, I logged a 2.5 mile creative-cardio interval workout. WIN! Once back in Eric's room, I was calm, refreshed and ready to face the rest of the day. What's more, I managed to fit a workout into my out-of-the-ordinary day.
If you've found yourself with a loved-one in the hospital, you can probably relate to how much time you sit and simply wait. Well this morning while hanging out with my husband, waiting for him to be discharged, I considered what the rest of the day might hold. I knew once we got home, there was zero chance of me going to the gym. So I took advantage of the extra time and space to fit in a little strength-training, literally crawling the walls…in a good way!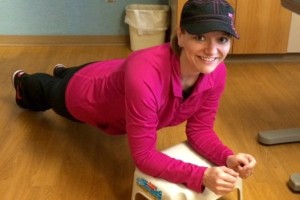 What a perfect opportunity for some squats, tricep dips, wall sits and planks! Three sets of each left me feeling awesome. I had a great photographer that seemed well-entertained. And, before we knew it, we were on our way home. No matter where I am these days, I size up the setting and am able to put my downtime to good use…and so can you! Remember, fellow FIT BFFs, where there's a will, there is ALWAYS a way!