Yeah, I know it's Thursday, I'm running a little late. I couldn't let FIT BFFs 3rd Blogiversary pass without giving away some gifts.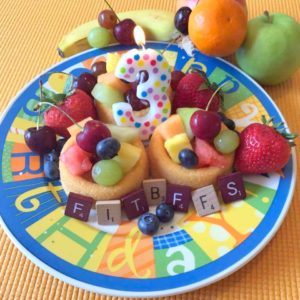 So here's the plan…let's do some fun giveaways for the next few weeks! We'll start with an incredible yoga gift package from the generous folks at Aurorae. I was so excited when they agreed to provide a prize pack for the occasion, but when they sent me one too, I couldn't wait to put it to use. I've reviewed some of their amazing products before; you can check that out here.
Because I've had the pleasure of using Aurorae's yoga gear in the past, I knew I was in for more of the same. Check out this gorgeous mat I took to a mindful location yesterday…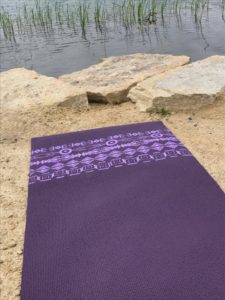 I enjoyed a peaceful meditation and some sun salutations on cushioned luxury. Aurorae also provided me with their delightful Hawaiian Island Afternoon Aromatherapy Spritz. The delectable scent had me wishing I could drink it…it smelled that delish! A few squirts of the spritz brought me back to the swaying palms and trade winds; the island was calling, Friends!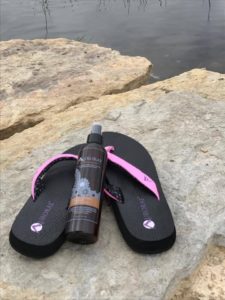 The experience was exquisite, and when I was finished, I slid into this divine pair of flip flops. These are designed by Aurorae, "… to make your walk as peaceful and mindful as your yoga practice."
As promised, walking was as if I had never left my yoga mat…ahhh, the comfort!
Friends, here's the great news, you can enter to win an Aurorae prize package including the yoga mat, aromatherapy spritz, yoga flip flops and one of these fantastic mat saks to make your practice conveniently mobile!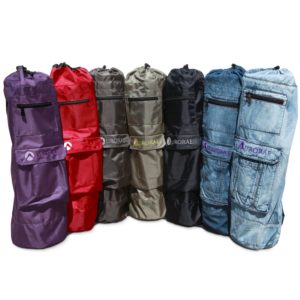 This giveaway is open to residents of the continental US. To enter, simply leave a comment below mentioning a topic you'd like me to discuss in an upcoming post. Want more entries? You can:
Entries will be accepted through Tuesday, July 18th at midnight Central Time. One winner will be randomly drawn and announced Wednesday, July 19th. Good luck, Friends, and NAMASTE!