Hey Friends, you've traveled alongside my adventures, milestones and recovery, and so has OOFOS! They've been there, literally supporting me every step of the way; here's just a peek…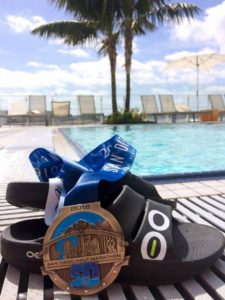 Wow, did it feel great to peel off my running shoes and socks and slide right into my OOahh slide sandals after every race…OOFOS' OOfoam recovery technology is the BOMB!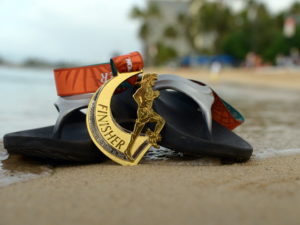 Whether I was out for a bike ride, walk, hike or a marathon…the relief of my OOlala sandals were always right there waiting for me!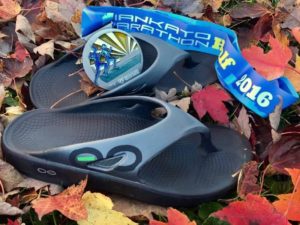 Through every season, I was so grateful to recover in extraordinary comfort…these OOriginal sport sandals made all the difference. I felt the OO again and again!
When Old Man Winter came, both the OOcloogs and OOmgs really helped me through some long days of work and play!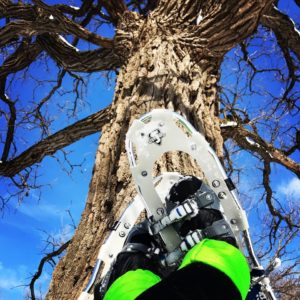 Just two weeks ago I was still snowshoeing here in Minnesota! And as OOFOS has continued to follow along my journey, they've made amazing strides to expand their line of support. They recently released some amazing boots that actually fit within my snowshoes! More news on those later this fall!!!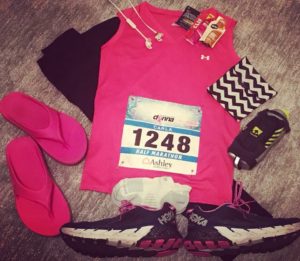 It's been so incredible to include OOFOS as part of my Flat Carla pics…here you see what all is needed for one of my races, and those fantastic Project Pink sandals were ready for me at the finish. This particular race was Donna's in Jacksonville to end breast cancer. How fitting that the OOFOS Project Pink line contributes $10 for each pair sold for breast cancer research.
Just the other day I stopped by OOFOS website to spot their latest release…their OOlala Luxe Black Glitter!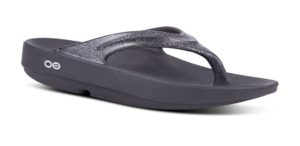 The minute I saw them, I was hooked! My friends at OOFOS generously provided me with a pair to test and recommend. I can't tell you how excited I am when a pair shows up in the mail. I am addicted to that new smell. What's more, I can't get enough of how extraordinary that brand new support feels.
But what I'm most excited about with this new sandal are the many dressed-up possibilities! They've really stepped up their game, because this new sandal will allow me to take support even further into my lifestyle. Remember that Flat Carla above? Well, I've been thinking about my son's upcoming outdoor wedding on the beautiful prairies and bluffs of Wisconsin wondering how I will survive the night in my dreaded  dress shoes, so here's a Flat Carla of a different kind…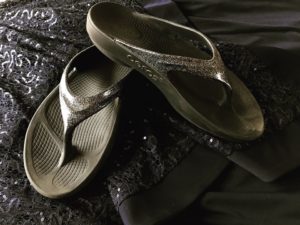 Problem solved! Seriously, OOFOS has been instrumental in fixing so many of my issues, and they can help you too! OOFOS has generously provided an additional pair of these exquisite sandals for a reader giveaway on this Win-It Wednesday!
To enter, simply leave a comment below stating which size you hope to win between now and Tuesday, May 8th, midnight central time.
Giveaway open to US residents only. Randomly selected winner will be announced here on Win-It Wednesday, May 9th. Good luck!